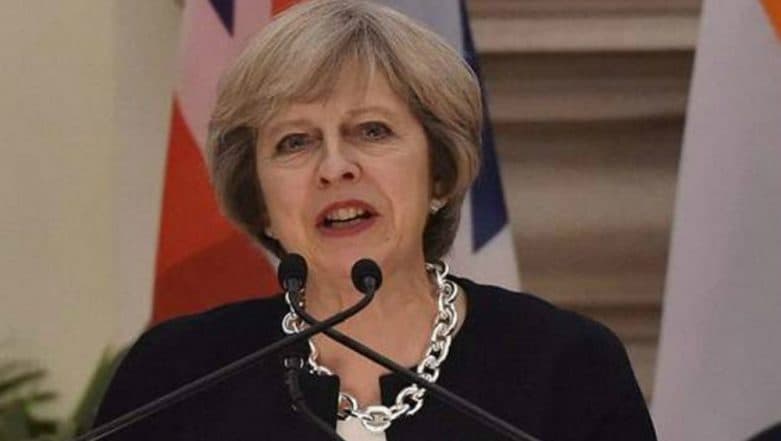 Toronto, March 4:  International pressure continues to mount against Pakistan for letting terrorist organisations operate on its soil. The United Kingdom has become the latest country to call on Islamabad to act against them.
UK's Prime Minister Theresa May in a call to her Pakistani counterpart Imran Khan has called for his government to act against the terror groups operating from Pakistan. "The Prime Minister emphasised the importance of Pakistan taking action against all terrorist groups, in support of global efforts to combat terrorism," a Downing Street spokesperson said.
Theresa May joins France, and the U.S. in calling for Pakistan to take action against terror groups such as Jaish-e-Mohammad which operates freely on Pakistani soil to plot and target India. This after Jaish-e-Mohammed claimed responsibility for the suicide attack in which 44 CRPF soldiers were killed in Jammu & Kashmir. The UK has also joined France and the U.S. to propose the black-listing of Masood Azhar, the head of Jaish-e-Mohammad at the United Nations Security Council.
"She welcomed his commitment to reducing tensions with India," May's office said of the call with Khan. "The leaders also discussed the need to address the causes of this conflict," added the spokesperson.
The JeM-claimed terror attack in Pulwama led to India carrying out airstrikes against terror camps in Balakot in Pakistan-Occupied-Kashmir which brought the two countries to the brink of a full-fledged armed conflict. It took the returning of downed-IAF pilot Abhinandan Varthaman by Pakistan to de-escalate the tense situation to a certain extent.
However, the Indian government has maintained that it reserves the right to act against terror groups operating from Pakistan, especially because Islamabad has refused to act against them. In fact past terror attacks in India such as the Mumbai 26/11 terror attack and the Pathankot airbase attack point to these terror groups being aided and abetted by Pakistan's ISI in their effort to target India.