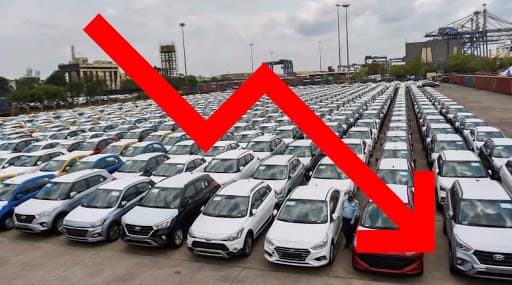 Mumbai, October 11: With reports of the economic crisis gripping the auto sector completely, Society of Indian Automobile Manufacturers (SIAM) data state that the month of September had been extremely rough on the Indian market. Data reveal that there has been a plunge of 23.69 percent in the sale of passenger vehicles in last month of the second quarter of the Fiscal (FY) Year 2019-20, while the commercial vehicle sales declined by 62.11 percent. Following this, it is visible that despite measures taken by the Union Finance Minister Nirmala Sitharaman the situation in has not improved.
According to the SIAM data, the vehicular sale was at an 11-month slump, while the auto sector crisis is considered to be the worst in three decades. Among the pointers that SIAM notified was that the sale of passenger vehicle sales dropped to 2,23,317 units in September, while for passenger cars, it was 33.4 percent, i.e. 131,281 units. Not only this, motorcycle sales too dropped by 23.29 percent, i.e. 10,43,624 units as against 13,60,415 units a year earlier. Total two-wheeler sales in September declined 22.09 per cent to 16,56,774 units compared to 21,26,445 units in the year-ago month. Economic Crisis Grips Auto Sector Completely, Passenger Vehicle Sales in August Dip by 31.57% Vis-a-Vis 2018, Suffer Worst Drop in Over Two Decades.
The overall passenger vehicle sales dropped by a significant 31.57 percent last month with 1,96,524 units sold as compared to 2,87,198 units in August 2018. Passenger cars segment suffered a massive decline of 41.09 percent,  with 1,15,957 units sold as compared to 1,96,847 in August 2018. While for the two-wheeler sales, it dipped by 22.2 percent at 15.1 lakh units sold. The situation was similar in July, i.e. the first month of Q2 of FY 19-20. Economic Crisis in India: Nirmala Sitharaman Quashes Manmohan Singh's Claims on GDP Data, GST Collections Decline; Here's All the Financial Development From August 2019
Here's the complete break-up of production, sales and exports of Passenger Vehicles in all segments for the month of September 2019:
#Economyslowdown and the auto sector continues to BLEED! for the month of September, passenger vehicle (domestic sales) DOWN BY 23.69%

Commercial vehicle (domestic sales) DOWN BY A WHOPPING 62.11% pic.twitter.com/MdyQRTTfJs

— Aishwarya Paliwal (@AishPaliwal) October 11, 2019
Here's a tweet by SIAM on Passenger Cars sales in September 2019:
A dip of 33.40% has been registered in the sales of Passenger Cars in September'19 as compared to September'18. #SIAMData #BTNR

— SIAM India (@siamindia) October 11, 2019
Reacting to the SIAM report, Sitharaman said in Pune, "I've been interacting with the automobile sector from all over the country, they have met me twice in Delhi. Consumer demand has not revived for the automobile sector, if the sector wants anything particular they can always talk to me."
Following the prevailing crisis, Tata Motors has not produced a single unit of its entry-level car Nano in the first nine months of 2019, and Maruti Suzuki India (MSI) reduced its production by 17.48 percent in September, making it the eighth straight month when the country's largest carmaker lowered its output. All the major automobile makers, including MSI, Hyundai, Mahindra & Mahindra, Tata Motors, Toyota and Honda have reported a double-digit decline in domestic passenger vehicle sales in September as the onset of the festive season failed to lift the ongoing slump in the auto industry.