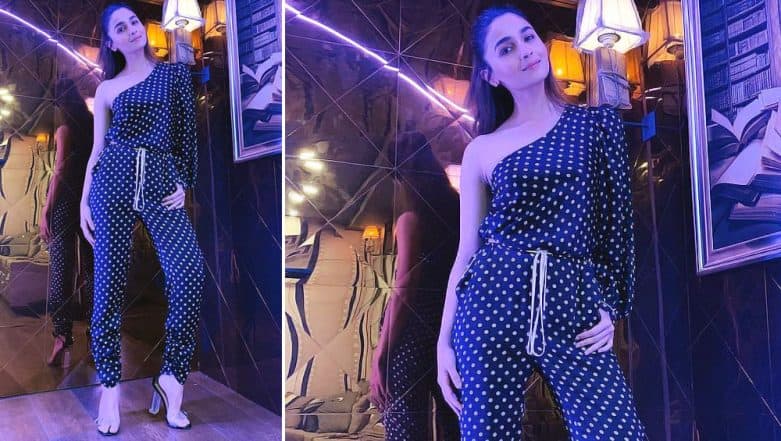 You know how celebs have their lives always on the go. They have this hectic lifestyle where they have to constantly travel from one set to another. Staying away from your home for most of the year can be a bit annoying. However, these celebs do have one thing for their rescue and that is their all-in-one vanity van. While they spend most of the time in this mini-house on wheels, they make sure that it is something worth to live in. And exactly for this reason, Shah Rukh Khan's designer wife Gauri Khan designed Alia Bhatt's plush vanity van in a beautiful manner! It's wonderful how 'Gauri Khan Designs' gave this amazing makeover to the actress' van. Is Alia Bhatt in Dostana 2? Read Official Statement.
Alia and SRK's wife herself, shared pictures from this van where Alia is seen celebrating the completion of this posh vanity van. At one go, you will find it hard to digest that it is indeed a vanity van and not any elite apartment! The interior has a mix of wooden and steel feels. You can also see a lampshade and a huge poster of books in the corners.
The 26-year-old actress shared the picture and wrote, "A glimpse of my new moving home.. @gaurikhan." On the other hand, Gauri too shared the same moments with the caption, "Enjoyed designing your home on wheels @aliaabhatt ... Planning a fun shoot... watch this space! #gaurikhandesigns." So, did you just read that they are indeed planning a photo-shoot inside this magical place on wheels and we are the most excited ones to see the interiors now!
Check out Alia Bhatt's New Palace on Wheels!
And One More...
You will be thrilled to know that Ms Bhatt recently bought a Rs 13 crore worth swanky apartment in Juhu. She even reportedly paid double the amount of the original cost for this new apartment. Looks, like someone is on the spree of treating herself! Stay tuned with us to get more updates on these.