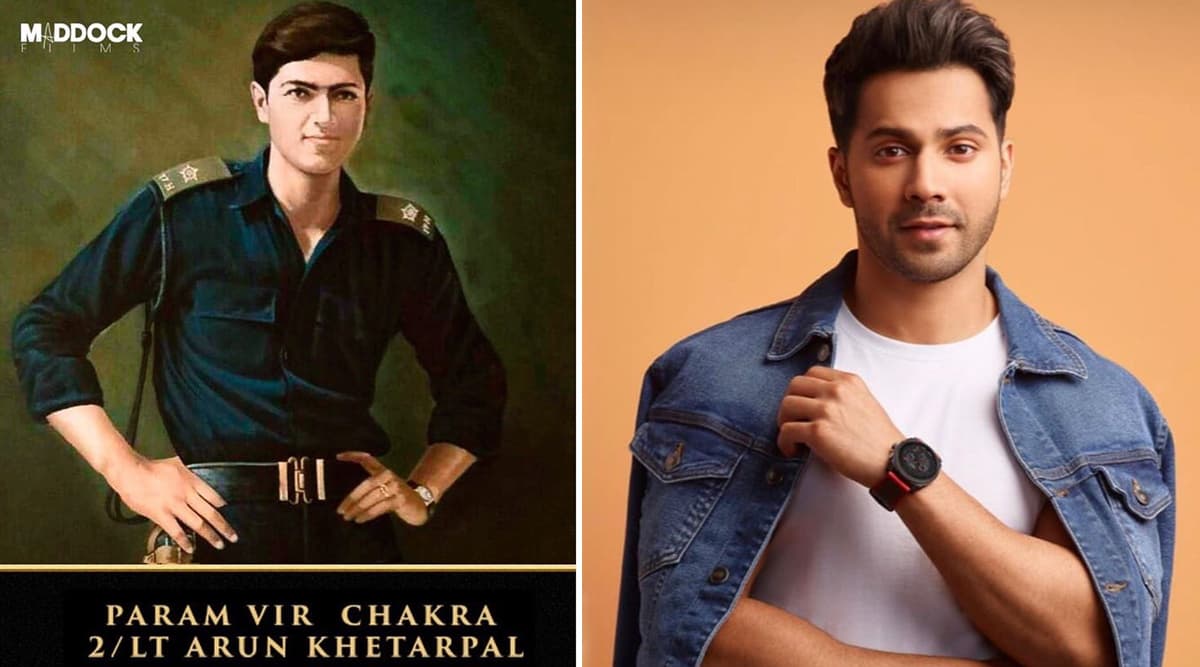 The big news is that Varun Dhawan will be teaming up with his Badlapur director Sriram Raghavan once again, this time for a film based on war hero, Second Lieutenant Arun Khetarpal of the Indian Army. Varun confirmed his role in the film and said, "Playing a soldier has always been my dream. After I heard Arun Khetrapals story I was honestly shocked that this could actually happen! I understood why Dinoo and Sriram were so passionate about it. And after I met Aruns brother Mukesh Khetarpal I was moved, I too have a brother and I can't fathom what he must have gone through." Varun Dhawan Confirms Starring in Sriram Raghavan's Film Based on Second Lieutenant Arun Khetarpal.
October 14 being Arun Khetarpal's birthday, the announcement of the biopic was made on this day. Sharing a special post for the same on his Instagram, Varun wrote, "Happy birthday 2/lt #ARUNKHETRAPAL. It's always been my dream to play a solider of INDIA. This is my most important film. Can't wait to be directed by the mad genius sriram Raghavan one more time to bring to big screen the life of 2/lt #ARUNKHETARPAL. Cant wait to begin working with dino vision my producer who always has a vision but this time with emmotion. Hope to make you proud #mukeshkhetarpal and #poonahorse. JAI HIND 🇮🇳. Thank you to my fans and hope i don't let you down."
Check Out Varun Dhawan's Post Here:
We are sure you are intrigued to find out more about the Second Lieutenant whose story of valour will soon be making its way to the silver screen. Here's all you need to know about him. Varun Dhawan and Kriti Sanon Reach Out to Fan Who Survived an Acid Attack Via Video Call, Wish Her a Speedy Recovery.
Who is Arun Khetarpal?
Arun Khetarpal was a Second Lieutenant of the Indian Army. He is remembered for his contribution in the Indo- Pak War 1971 and was honoured with the Param Vir Chakra, posthumously. The 21-year-old hero is remembered for showing his valour in the 1971 Battle of Basantar which was a vital battle of the Indo-Pak war. He is the youngest recipient of the Param Vir Chakra.
Battle of Basantar:
In June 1971, Khetarpal was commissioned into the 17 Poona Horse. During the Indo-Pakistan War of 1971, the 17 Poona Horse was assigned to the command of the 47th Infantry Brigade of the Indian Army. Through the duration of the conflict, the 47th Brigade saw action in the Shakargarh sector in the Battle of Basantar. In the skirmish that took place at Basantar, the lieutenant as he was hit by enemy fire, but instead of abandoning the tank he kept fighting until destroying one final enemy tank.
It certainly will be interesting to see Varun Dhawan undertake such an amazing role. This is the first time Varun will be essaying the role of an Indian Army lieutenant. Considering his past collaboration with Raghavan, this film could turn out to be a special one in his career.