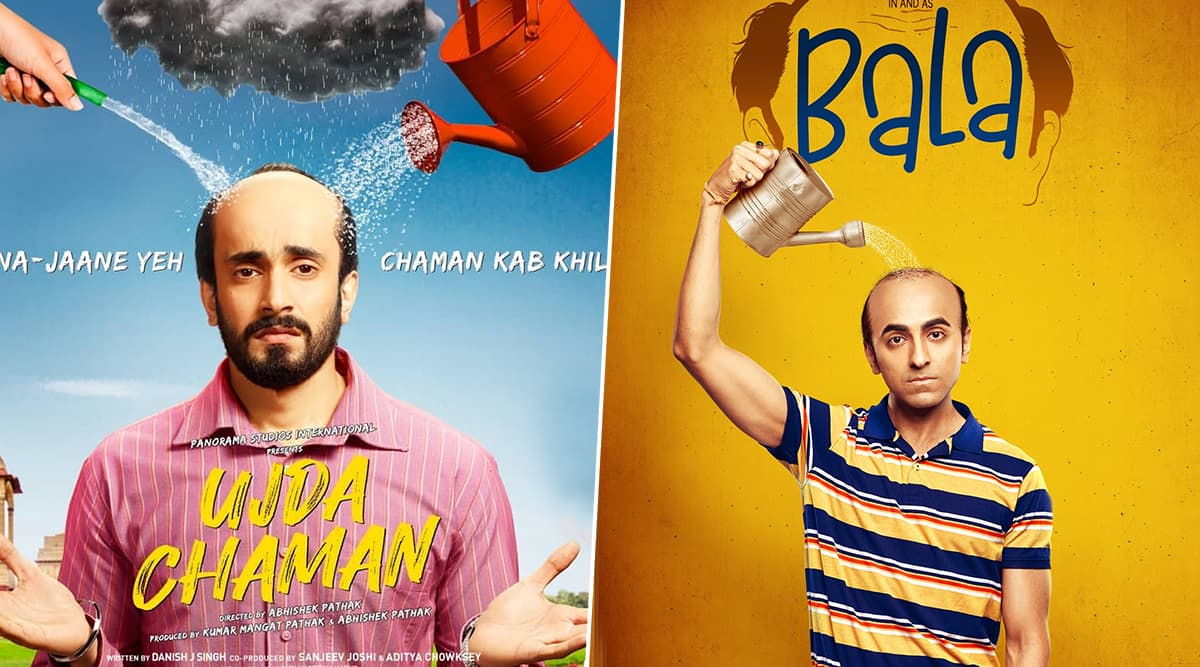 Ayushmann Khurrana is having a ball this year. Not only did he win his first National Award for the Best Actor in 2019 (for AndhaDhun), he also has three back-to-back hits this year, with one of them crossing Rs 100 crore. While Ayushmann gave two hits earlier in Article 15 and Dream Girl, he is now all set to score another win in Bala. Directed by Stree fame Amar Kaushik, Bala has Ayushmann play a balding man from Kanpur, who is insecure of his looks and is obsessed with a beautiful TikTok sensation, played by Yami Gautam. Bhumi Pednekar plays Bala's childhood friend, who is taunted by him for her dark skin. Bala: From Shah Rukh Khan to Ram Mandir, 10 Times Ayushmann Khurrana's Film Used Social and Pop Culture to Make Funny Jokes (SPOILER ALERT).
The supporting cast of the film includes Saurabh Shukla, Seema Pahwa, Abhishek Bannerjee and Jaaved Jaafery. Bala has turned out to be the family entertainer that people have been yearning for, after Housefull 4 didn't turn out to be delectable Diwali entertainer that people expected it to be (though it did make more than Rs 150 crore at the box office).
What makes Bala's success even more interesting is that it had landed in a controversy with another film, Ujda Chaman. The Sunny Singh-starrer, which released a week before, was also about a balding college lecturer from Delhi who just can't seem to find a for himself. The makers of Ujda Chaman had accused their counterparts of Bala of stealing their idea and spotlight. Ujda Chaman, however, didn't do any wonders at the box office.
Now that we have seen both the films, we can clearly say that even though both share flawed protagonists with the same issue, the premises of Bala and Ujda Chaman are much different. While Ujda Chaman was a remake of the Kannada film Ondu Motteya Kathe, Bala is an original film that is in the vein of most of Ayushmann's hits. Bala Movie Review: Ayushmann Khurrana, Bhumi Pednekar and Yami Gautam Are in Rollicking Form in This 'Hair'-Raising Comedy.
So what is it about Bala that makes it make a bigger impact than Ujda Chaman? We have five reasons that tell you why!
Reason #1 - Ayushmann Khurrana
Of course, can there be any other big selling point than Ayushmann for Bala? The actor is on a roll since 2017's Bareilly Ki Barfi, scoring hits back-to-back with the recent Dream Girl becoming his highest-grossing film. The man has already created a brand for himself in the industry and has won over the family audiences and the critics with his script sense and humour. In Bala, Ayushmann is once again excellent, using humour to make his flawed character to not come out looking despicable enough. What's more, his impersonations of popular stars are just too good.
On the other hand, Sunny Singh, while a likeable actor, is doing his first solo lead role with Ujda Chaman. While he was good in Pyaar ka Punchanama 2 and Sonu Ke Titu Ki Sweety, Sunny's potential as a crowd-puller has not been established. There is also the fact that his character in Ujda Chaman has not been developed well, making the hero look very creepy and unsympathetic, and the actor's monotonous performance doesn't help either. Ujda Chaman: Forget the Sunny Singh-Starrer, Watch the Malayalam Film Thamaasha That Deals With Premature Balding in a Humorous but Sensitive Manner.
Reason #2 - More Enticing Promos
The first impression is always the best impression, and here's where Bala scored once again with its first promo. The video had Ayushmann's Bala riding on a bike lipsyncing to Shah Rukh Khan's song from Deewana, "Koi Na Koi Chahiye" before his cap flies away to reveal his bald pate, and the song turns into another melancholy one. The teaser got a lot of appreciation, and even the trailer didn't fare badly.
Interestingly, even though Ujda Chaman went into production first, the public had this impression that this film was cashing in on Bala. All because Bala has put out its promo first, which was a cunning move indeed. While Ujda Chaman's trailer was decent enough and raised curiosity, it didn't create the kind of anticipation that Bala did.
Reason #3 - The Starcast
Bala had a great supporting cast, with nearly everyone judiciously used in the film, from Bhumi Pednekar to Saurabh Shukla. Even Yami Gautam who was stuck in the PYT kind of roles till now, gave an eye-opening performance as the ditzy, vain TikTok star from UP. Each actor complemented both Ayushmann and the film to create a good ensemble.
Ujda Chaman, meanwhile, had a lesser-known yet talented cast, with Sunny Singh and Saurabh Shukla being the more notable names. While the actors gave their best, unfortunately, the director (Abhishek Pathak) chose to extract loud performances from them. The only actor who managed to get out unscathed was the debutant Maanvi Gagroo, and even she was stuck in a sketchily written character. Ujda Chaman Movie Review: Sunny Singh, Maanvi Gagroo's Film Is a Loud, Insensitive Comedy That Does Harm to Its Cause.
Reason #4 -  It's Actually a Better, Funnier Film
Sure, Bala follows the same template as many of Ayushmann's films, and Bhumi's blackface is still problematic. But Bala is a very funny, colourful film that has some really well-written characters, and benefits from its smart writing.
Ujda Chaman may have borrowed the premise of the Kannada film (or its equally delightful Malayalam remake). But it borrows neither the charm nor the subtleties that made the other two movies so good. In the end, Ujda Chaman turned out to be loud, stereotypical comedy filled with unlikeable, caricatured characters that will only appeal to you if such brand of humour amuses you.
Reason #5 - More Positive Reviews and Word of Mouth
This is a no-brainer. Bala has received overwhelmingly positive reviews, which also pushed for more footfalls in the theatres. While the Ayodha verdict and the situation around it may have slightly affected the movie's collection on Friday, overall Bala did pretty good in its opening weekend. In three days, Bala collected Rs 43.95 crore at the box office, making it Ayushmann's second-highest opening weekend grosser after Dream Girl (Rs 44.57 crore).
Ujda Chaman, meanwhile, opened to poor reviews. It had performed decently in its first weekend, earning Rs 7 crore, but couldn't entice the audience in the week ahead, earning only Rs 10 crore overall.