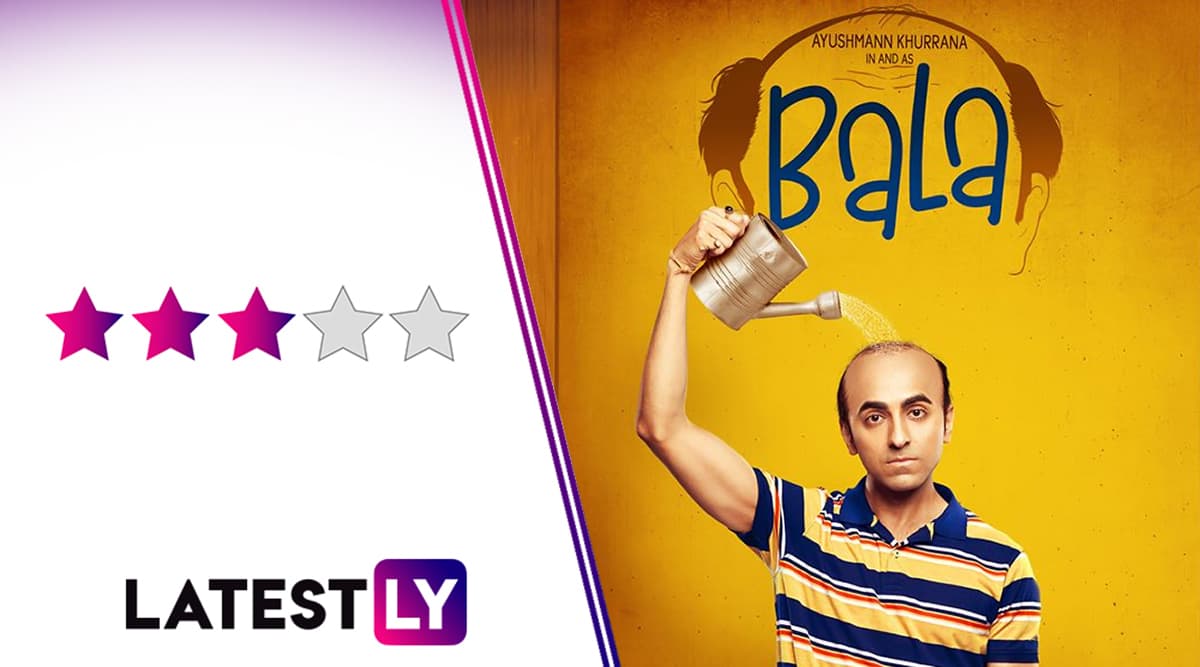 Bala Movie Review: Bala (Ayushmann Khurrana) from Kanpur is balding, but that hasn't been the case always. When he was a teenager, he prided over his luxuriant hair and was the star of his school. He chides his best friend Lathika over her dark skin, leading to them having a blow-hot-blow-cold relationship in future. But 11 years later, the only place where Bala could find his baal intact is in his name. Bala Actor Bhumi Pednekar: My Character Deals with the Colour Bias That Exists in Our Country.
He sees his lack of hair detrimental to his personality and hurting his ego. From different kinds of oils to cow-dung, Bala has tried every trick to grow back his hair but to no avail. Meanwhile, Lathika (Bhumi Pednekar) has become a lawyer and her intolerance about comments on her dark skin has also made her stronger.
Bala's father (Saurabh Shukla) gifts Bala a hairpiece that gives back him his confidence and swagger. With a renewed vanity, Bala woos Pari (Yami Gautam) the TikTok sensation of Uttar Pradesh, who is a model for his company's fairness cream. However, when she proposes marriage, Bala is in a fix as that would be mean telling her the truth about his 'hair'.
Bala, directed by Amar Kaushik, and last week's Ujda Chaman were both about two men with the same condition and the same insecurities. And they also get to realise by the end that real beauty is never skin-deep. Both the protagonists are deeply-flawed themselves, but what gives Bala an upper hand is that his character is given more room to flesh out. We know where his vanity comes from, even when we pretty much hate Bala when he is on his self-appeasing roll. Bala: Ayushmann Khurrana Starrer Faces Another Controversy; 'Marksheet' Director Demands a Stay on its Release.
Bala as a movie has enough problems like its hero has with his life. The screenplay is wobbly, especially in the second half. The movie couldn't bring the same kind of energy in the dramatic portions, as it did with the light-hearted portions, a common issue with most of Ayushmann's social comedies. And yeah, even the template feels the same - a protagonist in an unusual situation, hilarious supporting characters, the situation putting the lead in a fix, the emotional hassle and finally the sermonising, followed by a happy ending. Not to mention, the setting of a town in Uttar Pradesh. Bala is no different.
I am also a little confused with the time setting of the film. If the present era setting is in 2016, then how did TikTok, that was launched a year later, became such a big thing then? Or the hilarious references to Manikarnika and especially, Gully Boy, which came out in 2018 and 2019? Or did I miss the passage of time in between the laughs?
But when the film is this entertaining, it is easy to overlook some of the flaws.
Watch The Trailer of Bala:
The dialogues (Niren Bhatt), that merges nostalgia with current references and a little touch of meta, are hilarious, which is becoming an Ayushmann thing these days. Just like how Emraan Hashmi was once associated with good songs. The usage of TikTok videos, featuring Bala and Pari, and implementing some very popular '90s songs in them is uproariously good, and is my favourite part of the film.
Bala, however, gains its strength in how it depicts its three lead characters.
Ayushmann's protagonist is an interesting character in the way that he lets his various impersonations cover up his insecure self. Even when he has to be romantic, he apes Shah Rukh Khan, instead of letting his true emotions out. He is also not the one to accept his flaws and imperfections, instead, finding ways to put the blame on others. In a notable scene, when Bala finds out that he can't have a hair transplant, he blames his father for giving him both the balding genes and diabetes. For others, it may feel unfair. But for him, it makes perfect sense - After all, Rakesh Roshan didn't give Hrithik his bald pate, he reasons. Even the half-mirror in his bathroom is his way of making himself perfect, even when deep down, he knows he isn't.
So when things don't go his way, we don't feel bad for him, but pity him for sure for being a weakling. This may not be Ayushmann's best character, but it could be a character that most reflects the weakness in every one of us.
Lathika is, perhaps, the least flawed character in the film, even if the rest of the world around her sees her skin as a flaw. Through Lathika, we are reminded that not just Bollywood songs, even mythologies have a fixation with fair skin, and see dark as a curse. Which, no wonder, has trickled into the mindset of our society. During a date with a suitor, she tells him that she has a radar that picks up the word 'Kaali', having heard it since the age of 5. At many times, I felt that Bala should really be her story, of how she has become stronger using the insults heaped on her, and how she resents Instagram filters that make her look fairer. In the first half, Lathika has less scope. But in the second half, she is more developed as a character, and I am glad that Lathika gets the happy ending that she deserves, even if the film is about Bala.
Which brings us to Pari, the most fascinating character among the three. She represents our obsession with everything fair, and in a fine meta casting, Yami Gautam, who used to model for Fair & Lovely, is playing her. Pari is self-obsessed about her looks and her TikTok videos. She is vain; she knows it and she doesn't see the harm in it. In a well-written scene, Pari tells Bala that she knows that she only has good looks, and nothing else to be proud of, so why is she wrong in wanting to spend her life with someone who is perfect in his looks? It's a scene that gives her character an unexpected depth, and Yami gives a smashing performance there.
The Performances
When the trailer came out, I had this complaint that Ayushmann is repeating himself in most of the movies these days. After watching Bala, that complaint still persists. But when the actor gives it all to make his performance so adorable, then you can't help but smile and say, 'Chalo, next time'. Ayushmann is in excellent form here, and his impersonations, that range from Amitabh Bachchan to Shah Rukh Khan to even Bobby Deol, are bound to bring the house down. Clearly, Bala is going to be another winner for the actor.
Bhumi Pednekar's made-up gleaming dark skin is distracting at times, but, like with Saand Ki Aankh, the actress pitches in a strong act to compensate for that. She could make us feel the rage and frustrations within her, and her chemistry with Ayushmann is, as always, fantastic, even if it isn't explored much here.
Yami Gautam is Bala's biggest surprise package! Girl, where exactly have you been hiding this entertaining side of yours all this while? As the ditzy-headed beauty, Yami is hilarious, and her 'acts' in the TikTok videos are too fun. Also, watch out for her performance in the scene when she discovers Bala's hidden side. Yami is excellent throughout and this role should make other film-makers notice her comic talent and cast her in roles that don't really make her a PYT! Okay, Amar Kaushik, I saw what you did there with her casting now!
The supporting cast - from Saurabh Shukla, Sunita Rajwar who play Bala's parents to Seema Pahwa (as Lathika's mother), as well as Abhishek Bannerjee, who plays Bala's hairdresser friend - are dependable as always in giving a great act when the movie needs them to. Special mention to the young actors who play Bala's annoyed younger brother and a young Bala; sorry, didn't catch your names. A little complaint here - Jaaved Jaaferi is underused in the film.
Yay!
- All The Three Main Leads
- Their Characterization
- The Humour
- Leaves You With A Feel-Good Warmth
Nay!
- A Formulaic Treatment, Typical of Ayushmann Films
- The Emotional Scenes Dip In Energy
- The Romantic Shift For One of the Lead Characters is Hastily Done
- Trimming Needed and Some Insults Could Have Been Toned Down
Final Thoughts
After last year's hit Stree, Amar Kaushik scores another winner for himself with Bala. Bala is funny, it has a story that people can relate to and three leads that you can connect to.  It may stick to a formula, but if that formula is guaranteed to give you entertainment, then who is complaining? The bigger question to ask here is, how does Ayushmann make every film of his, so entertaining?