Popular author, Chetan Bhagat, who is always a favourite with the trolls, is now accused of harassing a woman. And the good part? He is not even denying it. Recently his Whatsapp conversation with a friend was leaked online. A Twitter user somehow got a hold of the same messages on the messaging app and posted it on the social media platform. Of course, the news had to make headlines and soon Chetan was targeted with numerous questions and allegations which he decided to answer once and for all. Singer Kailash Kher and Model Zulfi Syed Join the Likes of Nana Patekar, Victims Come Forward to Reveal Shocking Incidents.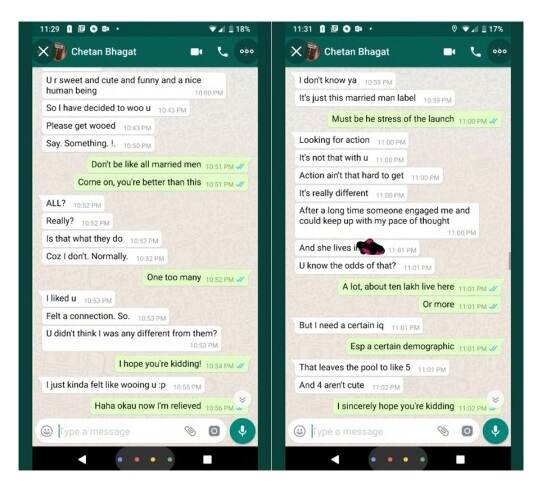 In his elaborate Facebook post, he agreed that those were his own words in that conversation and he genuinely felt those numerous emotions about the girl in the question. However, he has apologised to Anusha (the same girl) for his indecent behaviour and also for his attempts to flirt with her despite being a married man. Twitterati Reminds Shakti Kapoor Of His Own Casting Couch Scandal After He Says He was a Kid; When Tanushree Dutta-Nana Patekar Incident Happened; Here's the Video.
Ironically the author had earlier condemned the entire Tanushree Dutta controversy. "A girl has felt offended and I think we should listen to her. It is for her to decide what actions she wants to take, what she wants -- an apology, something more. I don't really know what actually happened there, sometimes it can be a misunderstanding and sometimes it can be a deliberate thing... but whatever, we should listen to her and not kind of question her," he had told PTI.
Guess it was time he looked at himself in the mirror!