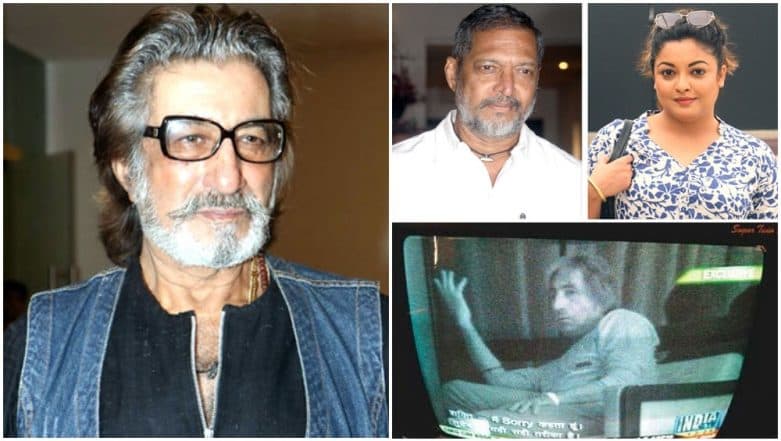 Tanushree Dutta - Nana Patekar row has become a heated debate after the former again visited her allegations against the acclaimed actor. The allegations were based on an incident that happened in 2008 during the shoot of a film, where Tanushree accused Nana of misbehaving with her. Some celebs like Ayushmann Khurrana, Sonam Kapoor, Swara Bhasker, Farhan Akhtar came out in support for the actress, while others like Amitabh Bachchan, Salman Khan and now Shakti Kapoor try to veer away from the topic. Salman Khan's 'Rude' Response to Journo Who Asks Him About Tanushree Dutta Gets SLAMMED by Twitterati - Watch Video.
Shakti Kapoor was asked about the incident when he was at the trailer launch of his movie, The Journey of Karma. He replied that he was a 'kid' when this incident happened so he cannot say anything about this. While his response was in jest, many on social media feel that it was a cowardly way of not answering a sensitive question.
While there were celebs like Anuup Sonni who reminded Shakti Kapoor, that he himself is a father of an actress daughter (Shraddha Kapoor)...
What an insensitive statement from a father of an actress... #Shameless https://t.co/7z6vRbaudi

— Annup Sonii (@soniiannup) October 3, 2018
...there are others who reminded Shakti Kapoor of his own casting couch scandal that happened in 2005. If you are unaware of this, Shakti Kapoor was caught on camera by a news channel trying to lure a girl reporter, who pretended to be a struggler, into compromising for roles.  He was caught on camra boasting about how even Aishwarya Rai had 'slept' with Subhash Ghai to get roles.
Here's the video of the scandal -
So many Twitter users pointed out this incident to remind Shakti Kapoor that he is not so innocent himself.
Tweet #1
Why is the media asking Shakti Kapoor for an opinion on the Tanushree Datta-Nana Patekar incident? Everyone forgotten that 2005 sting controversy? https://t.co/o5L8PnBhJI

— Kiran Manral (@KiranManral) October 3, 2018
Tweet #2
Asking Shakti Kapoor about his views on sexual harassment is the new Asking Azam Khan about his views on....anything.

— Nishant Kaushik (@nofreecopies) October 3, 2018
Tweet #3
When Shakti Kapoor was asked to comment on the Tanushree-Patekar row, he laughs it off and says he was just a kid 10 years ago.

The cheap & disgusting 'kid' was already exposed for his casting couch scandal back then. pic.twitter.com/I5E13bWxOT

— Od (@odshek) October 2, 2018
Tweet #4
Which means he was an infant when he was caught on tape asking for sexual favours himself. Way to go, asking an early starter in the field of harassment about his views on, um, harassment. https://t.co/2m6XPNrCZT

— Nishant Kaushik (@nofreecopies) October 3, 2018
Tweet #5
Around 10 years ago, this kid was caught in a casting couch sting. https://t.co/INKMjsfqaJ

— Saniya Sayed (@Ssaniya25) October 3, 2018
Interestingly when Shakti Kapoor and television actor Aman Verma were caught in this sting operation, Bollywood celebs like Salman Khan and Govinda came out in support of them. So there's that!