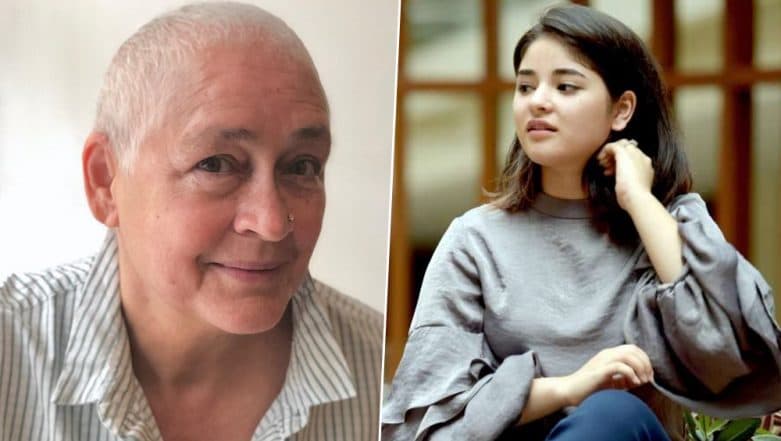 Dangal star Zaira Wasim recently took announced that she's quitting films in a Facebook post that has currently become the talk of the town. The 18-year-old star mentioned in the post that her profession was interfering with her faith. After her announcement, several celebs have come out in support of Zaira Wasim's decision while there are others who have also bashed her for choosing religion over career. Actress Nafisa Ali who was last seen Saheb, Biwi Aur Gangster 3 in 2018. in, recently announced on social media that she is cancer-free now.  Zaira Wasim Quits Acting: Twitterati Divided Over the Dangal Star's Decision Due to Its Religious Context.
Having recovered now, the actress wrote in her post that she's seeking work and also commented on Zaira's decision in the same post. Nafisa urged people to stop targeting young women in the country in her post, hinting at the kind of response that Wasim is getting and also what drove her to take such a decision.
She further even recalled herself relating to Zaira's situation. Nafisa wrote, "I saw myself when I was 20 and I just felt for young actor Zaira Wasim. I thought let me put this message out that work is something which is your choice, it is your freedom, your independent right. There are many pressures young people are surrounded by... but if you have a choice, make you sure you think and make the right choice. Because I always look back and say why did I give in, why did I listen to my father, I should have listened to myself ". Raveena Tandon Takes a Dig at Zaira Wasim's Decision to Quit Bollywood, Says 'It Doesn't Matter if Two Films Old are Ungrateful to the Industry'.
Take a look at her Instagram post here:
In another post, she also wrote that we must stop targetting young girls. She said, "May God give each of us the strength to follow our dreams. Stop targeting young women in India. Stop religious intolerance. Stop dictating to Indians. India is unique and we must protect our secular fabric. Stop this divide and rule. Focus on a better world."
Here's another post by Nafisa Ali:
Nafisa diagnosed with Stage 3 cancer last year. However, now she says she is willing to read scripts after her recovery. She has worked in films such as Major Saab, Life In A Metro, Guzaarish and Yamla Pagla Deewana among others.