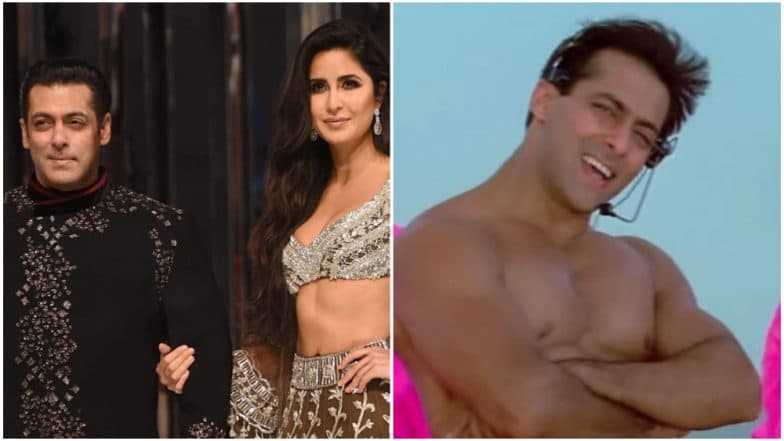 My morning was going just fine until I came across this story which reads that Salman Khan and Katrina Kaif will be starring the the REMAKE OF O O JANE JAANA. "No!!" I screamed out loud but that's not going to stop anyone from ruining the iconic number, or will it? According to a report in Mumbai Mirror, Salman and Katrina will be seen in the remake of the popular '90s track from Pyaar Kiya Toh Darna Kya which we still can't get enough of! What's even worse is that the song will be incorporated in Sooraj Pancholi and Isabelle Kaif's film- Time to Dance. Video: Salman Khan Turns Background Dancer for Anant Ambani's Performance at Isha-Anand Piramal's Wedding Sangeet, Gets Trolled Hard.
I speak for every millennial when I say that it's an insult to our '90s memory looking at how Bollywood has ruined some (READ: most) of the best old classics in the recent past and a remake of O o Jaane Jana out of all the songs is a strict NO-NO! For all those who have grown up on a diet of Bollywood films, this unappetizing plate of crap is what is bad... very bad for our health! It is all the things that we don't need. Secondly, a lot of us have emotional value attached to it which is what makes it even more difficult to actually imagine a remix version of a song that's so close to our heart.  Apparently, it is going to be "a modern day rendition" of the original track, and will be shot on lavishly-mounted sets. The reprise version has already been composed by Shivai Vyas and sung by Kamaal Khan, the voice of the original song. Salman Khan to Spend Valentine's Day With Ex-Beau Katrina Kaif, Find Out Why?
So, since they have already composed the song there is nothing much than we can do about it than going on a  never- ending rant. And for all those who are equally upset/ furious/ pissed about the new rendition of the track, here's something that might distract you for a while. Check out the original track here:
We're honestly falling short of words to describe how disappointed we are. What do you think of it? Do comment below and tell us.
(Disclaimer: The views expressed in the above article are solemnly the author's and the website doesn't take responsibility for it.)