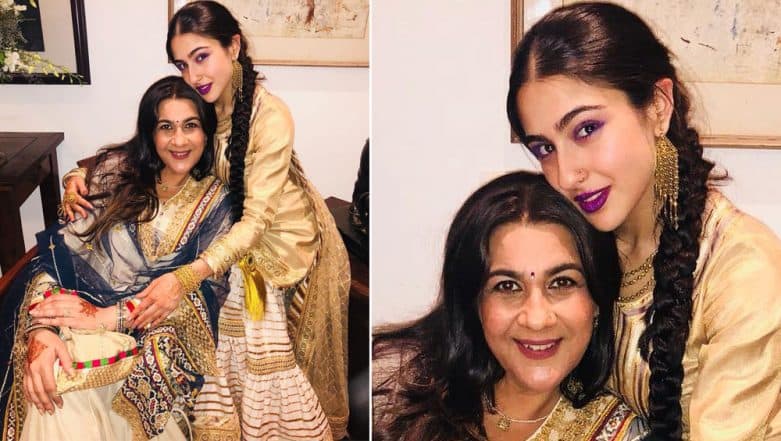 Actress Sara Ali Khan went back to the place where she started her Bollywood career, Uttarakhand and was accompanied by mother Amrita Singh, well to not refresh her memories, but in relation to a property dispute. A report in News18 read that Amrita and Sara approached the Clementown Police Station on Saturday afternoon, to stake claim over a 16,000 square feet worth property in the outskirts of Dehradun. The property is currently disputed. Imtiaz Ali Reveals He is Unsure About Sara Ali Khan and Kartik Aryan in Love Aaj Kal Remake and We Are Keeping Our Fingers Crossed!
A police officer on the condition of anonymity revealed the details of the case to the portal. He revealed that the property in question belonged to Amrita's maternal uncle Madhusudan Bimbet who lived there and passed away on Saturday.
The reports also read that Amrita, who reached there, cremated her maternal uncle's body and then both allegedly entered the bungalow. And that's when Mr Madhusudan's caretaker by the name of Khusiram approached the police and stated the old man had locked the property and hence, no one could enter. Deepika Padukone, Sonam Kapoor and Sara Ali Khan Find a Place in Our Best-Dressed Category This Week; View Pics
A close friend of Amrita's maternal uncle was also quoted as saying to the portal, "Nevertheless, none came to see Madhusudan when he needed most and after he died suddenly these people have turned up claiming property belong to them."
While Amrita and Sara were both unavailable for comments, the police officials involved with the case too refused to comment as the matter was 'sub-judice'. The report also mentioned that the concerned parties were welcome to approach the Court on Monday.