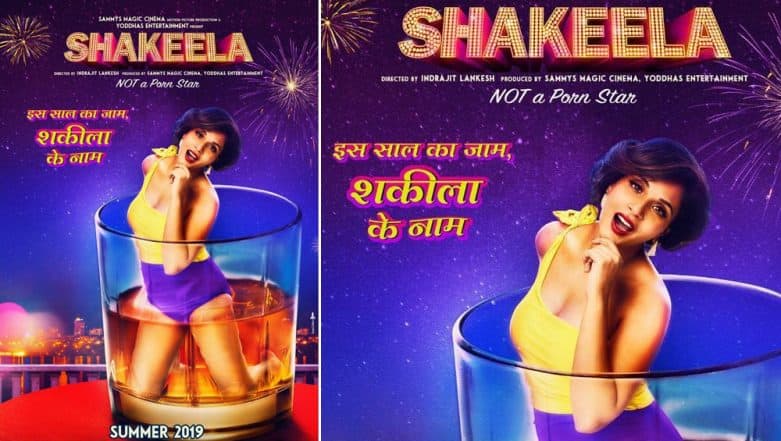 We are eagerly looking forward to Richa Chadha's Shakeela that is due to release this year. Based on the life of the south adult film actress, the film has been directed by Indrajit Lankesh. The movie will explore the life beyond the screen image of the actress who defied the norms in the late 90s in the south film industry. We have already been impressed by how Richa is looking uncannily perfect for the part. Now, as the promotional spree of the film is slowly warming up, the makers have released a new poster of Shakeela.
In this newly released fun, a quirky poster with Richa Chadha as Shakeela is perched inside a glass of alcohol with the line wishing everyone - 'Iss Saal Ka Jaam, Shakeela ke Naam'. You might find the poster to be a bit off that because it is meant to be an ode to the late 90s when such quirky imagery was a regular part of film posters. Shakeela – Not a Porn Star! Richa Chadha's Film Gets a Cool Tagline and a Trippy Poster – View Pic.
 

 

 

 

View this post on Instagram

 

 

 
The makers earlier released the first look poster of the film in November with the lead actress Richa Chadha embellished in an outfit made of only gold jewellery standing against hate messages inscribed on a wall showcasing the discrimination and hate Shakeela had to face for her choices during the course of her illustrious career.
"I'm looking forward now that the film has wrapped up for the release next year. We have kept the story to the most authentic version of her real life. Shakeela herself has been pivotal to making this film happen and helping us an in-depth knowledge into her life which has helped us tell the story in its most authentic version possible," Richa has said in a statement.
The film has been produced by Sammy's Magic Cinema and Yoddhas Entertainment.