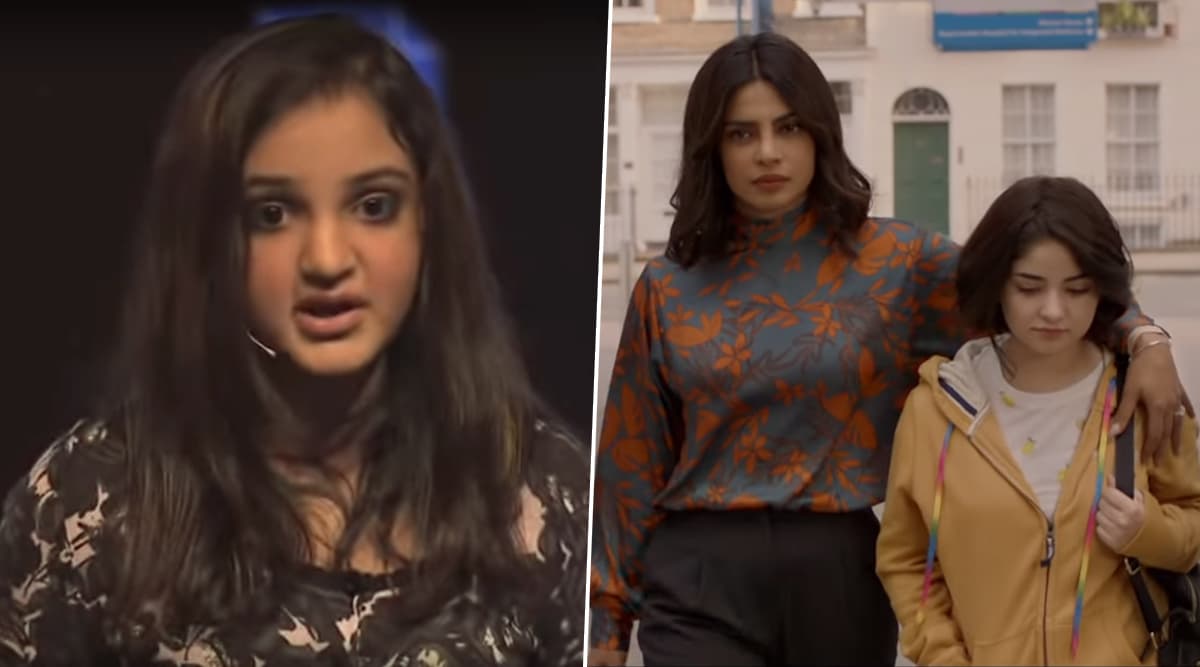 Priyanka Chopra's latest release is The Sky Is Pink. It opened in theatres on October 11 and has recieved rave reviews from the critics. The movie directed by Shonali Bose is a beautiful ode to grief. It is based on the real-life story of a teen motivational speaker, Aisha Chaudhary, her parents - Niren and Aditi and her brother, Ishaan. This is no spoiler as it is literally the first scene of the film, but Aisha passed away in 2015. The movie talks about her and her family's journey towards her inevitable death and the aftermath. The Sky Is Pink is a moving film that you should not miss at any cost. The Sky Is Pink Movie Review: Priyanka Chopra-Farhan Akhtar's Emotionally Charged Film is Pure Gold.
In case, you want to know more about Aisha, the beautiful, witty and intelligent girl who inspired the film, we have you covered.
Aisha was born on 27 March 1996 with a rare disorder called Severe Combined Immunodeficiency (SCID) which impairs two kinds of infection-fighting cells. As a baby, under 6 months of age, she underwent very expensive medical treatment in London, which included chemotherapy, and survived. But after the treatment, she was asked not to travel or move to India. So, Aisha spent her early years of life in London. The Sky Is Pink Celeb Reviews: Bollywood Hails Priyanka Chopra and Farhan Akhtar's Latest Release (View Tweets).
After constant care by her parents, Aisha got better at the age of 15 and moved to India with her family. She studied at Delhi's American School in India.
But due to side effects of chemotherapy, she went under as a baby, Aisha developed a condition called 'pulmonary fibrosis'.
The condition causes irreversible scarring of lungs, which leads to trouble in breathing. "Death is the ultimate truth, but I want to be happy and I choose to have a happy pulmonary fibrosis," Aisha said in an interview.
Aisha, knowing she is sprinting towards her death, became a motivational speaker. She talked about happiness, life and death in her first talk Chennai in 2011, which went viral. After that, she spoke at another event in Kochi in October, 2014 and at TedX-Pune. She has also spoken at events in companies such as McKinsey, Boehringer Ingelheim and the Shift Conference.
Aisha's father Niren Chaudhary is the president, South Asia operations, of YUM brand, while her mother Aditi is a mental healthcare worker.
Before her death, Aisha also wrote a book titled, My Little Epiphanies. The book was privately published just hours before her death at the age of 18.
In her last couple of years, Aisha was bound to a wheel-chair. Her breathing was mechanicalised with a machine. She needed an injection every day. She was even administered small doses of morphine when the pain from her lungs became too much to handle for her.
Aisha and her family's story in The Sky Is Pink will inspire you to embrace life and death in its full glory. The movie stars Priyanka as Aditi, Farhan Akhtar as Niren and Rohit Saraf as Ishan. The role of Aisha has been played by Zaira Wasim.