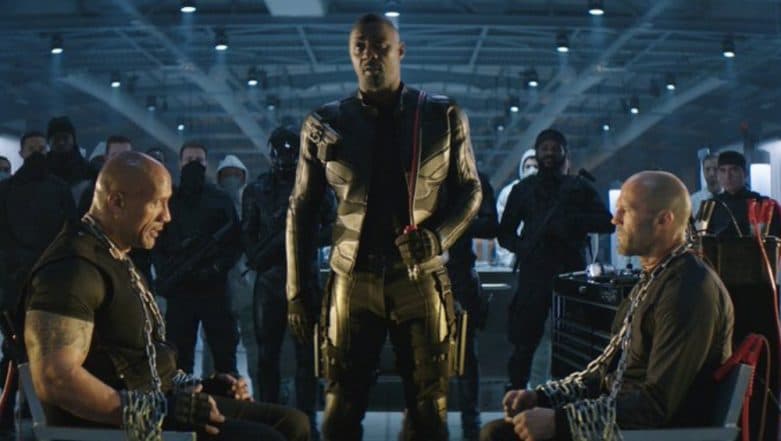 The Fast and Furious film series has spawned its first spin-off, titled Hobbs & Shaw. The movie stars Jason Statham and Dwayne Johnson in lead roles and will focus on the rivalry between the characters they play in the Fast and Furious universe. The idea sounds interesting from the word go. Fans in India are also pretty stoked up for the film, after its first trailer dropped in January. Knowing what a viable market India is for a film like this, Universal Studios has released a whole bunch of trailers dubbed in various regional languages including Punjabi, Bhojpuri and Gujarati. Whow!
Usually, pranksters on YouTube come up with trailers of Hollywood films dubbed in regional language, just for the kicks. But, the Hobbs and Shaw trailers are original and official. And, goes without saying, LIT AF. Zachary Levi's Shazam! Gets a Sequel; Dwayne Johnson Also Confirms Black Adam Is on the Way Too.
It is pretty hardcore to see Dwayne and Jason speak in Bhojpuri. Then the Gujarati trailer turns the heat up by a notch. Dwayne might be an American, but he has the mad energy of a Punjabi munda. It is a dream to see him speak fluent Punjabi. Well, the Punjabi trailer brings us closer to that idea.
Check out the Hobbs and Shaw Punjabi Trailer:
Check out the Hobbs and Shaw Bhojpuri Trailer:
Check out the Hobbs and Shaw Gujarati Trailer:
Check out the Hobbs and Shaw Marathi Trailer:
Check out the Hobbs and Shaw Hindi Trailer:
That is not all. Hobbs and Shaw trailer has also been dubbed into Kannada, Malayalam, Telugu, and Bengali languages. Don't you wish all the Indian movies went to this length for a pan-nation release?
Directed by David Leitch, Hobbs & Shaw also stars Vanessa Kirby, Roman Reigns, Eiza Gonzalez, Eddie Marsan, Cliff Curtis and Helen Mirren. The action entertainer is set two years after the events of The Fate of the Furious. The movie is aiming for an August release in India.