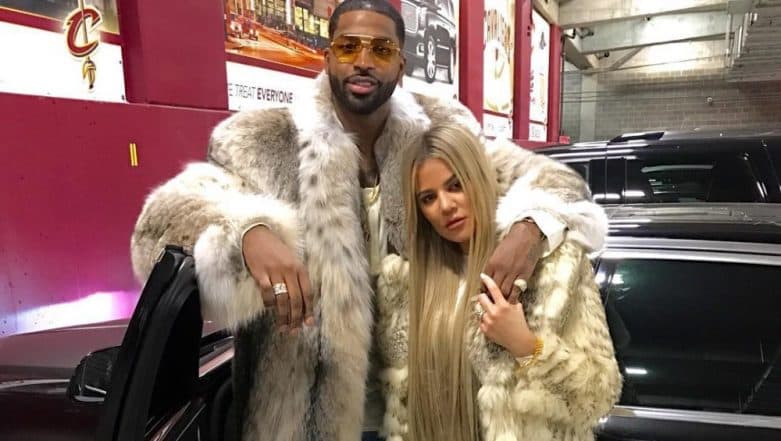 Khloe Kardashian is a sweetheart and probably the best of the Kardashians. The reality TV star, despite facing heartbreaks in the past, continues to have hope and faith in a positive future. To ensure that Tristan Thompson and True Thompson's father-daughter bond remains strong, she has consistently involved him in her life. Of course, since the cheating scandal, things have been rather uncomfortable between Tristan and Khloe. However, she doesn't want all that to come in between his relationship with True.
As per a report on People, "Tristan attended the birthday party with some friends. Khloé seemed a bit nervous about having him there, but there was never a question if he would be invited." The source continued, "It's super important to Khloé that True spends as much time with Tristan as possible. Khloé wants True to have a great relationship with Tristan." The party was the first time that Tristan and Khloe cam togther since his cheating scandal involving Kylie Jenner's former best friend Jordyn Woods. The source added, "Everything went smoothly. Khloé had asked her family to behave and leave Tristan alone. Khloé and Tristan posed for some pictures together with True but otherwise had very little interaction. Khloé let Tristan spend some alone time with True."
View this post on Instagram
On True's birthday, Tristan also shared an adorable video with his daughter. Holding her in his arms, the NBA player captioned his clip as, "❤️❤️my princess❤️❤️ I love you soo much." The birthday celebration was super cool as there were ponies dressed as unicorns, exuberant balloons, dreamy dessert table and lots of cool things. The source also added, "Khloé was very excited how the party turned out. It was all over the top and insane of course. But It was very important to Khloé to have this party. True is her life and she just wanted the most special day with her girl."
The party was attended by Kylie Jenner, Kim Kardashian West, Kourtney Kardashian and Khadijah Haqq. Stormi, Chicago and North were also present for the bash.