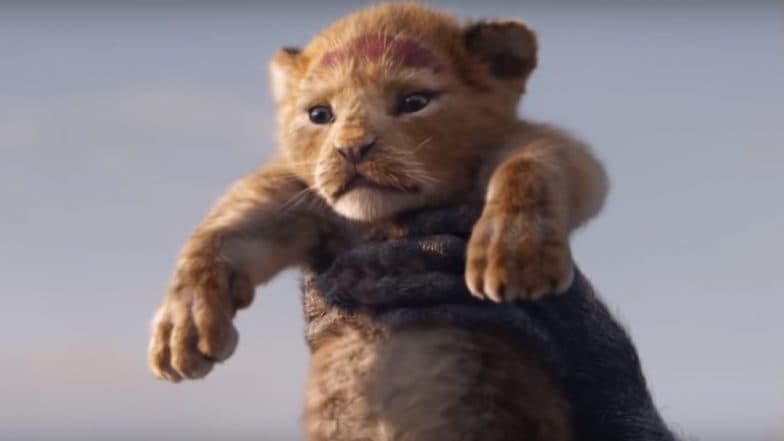 The Lion King, live-action remake of the animated film of the same name, opened in theatres on Friday. The movie minted Rs 11.06 crore on its opening day. On its second day, the movie was able to do even more business as it raked in Rs 19.15 crore. The grand total of the movie at the moment is Rs 30.21 crore. With those numbers, The Lion King has beaten Bollywood movies like Hrithik Roshan's Super 30, Tiger Shroff's Student of the Year 2, Ayushmann Khurrana's Article 15 amongst many other. The impressive numbers make sense given the fact this is a quality children-friendly film opening in theatres after a long time. Along with the children, the grown-ups, too, will be flocking at theatres to experience the nostalgia. The Lion King Movie Review: Jon Favreau's Remake of the Classic Disney Tale Trades Impactful StoryTelling for Stunning Imagery.
The numbers for The Lion King are only going to increase over Sunday. The movie is also expected to do a decent business over the next week. This film is another shining example of how Hollywood movies are making it big at home turf.
Our in-house film critics, Sreeju Sudhakaran was not very impressed by the movie. He wrote in his review, "Like with The Jungle Book, Jon Favreau once again scores visually with his remake of The Lion King. The stunning imagery will captivate you as long as the movie lasts and the voice-cast is excellent. And yet, The Lion King remake ends up being unmemorable because the visuals enhancements come at the sacrifice of a lack of depth in storytelling and rushed character development. Watch the remake for the visuals, revisit the original for the missing magic,"
The Lion King had already beaten Spider-Man: Far From Home as per the day 1 number. On day 2, The Lion King was able to zoom past the superhero movie one more time. On its first Saturday, Spider-Man 2 was only able to amass Rs 12 crore at the box office.