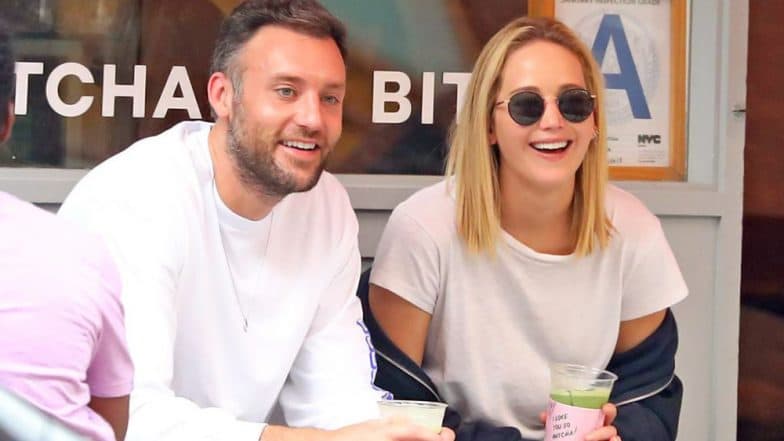 Jennifer Lawrence has been grabbing the headlines for two days, thanks to her beautiful engagement right. The Hollywood actress recently got engaged to Cooke Maroney and the fans are just hyper with happiness! The stunning beauty even admitted to getting engaged to him and how eager she is to get married to him. However, most of them are still clueless about this handsome man who stole JLaw's heart! Take a cue... Jennifer Lawrence Is Over The Moon And Can't Wait To Be Married To Fiance Cooke Maroney! Read Her Confession.
Profession
Cooke in an art director at NYC's Gladstone 64. It is located at the Gladstone Gallery's Upper East Side location which is considered as pretty much a fancy venue. He also has some starry clients like Caroll Dunham, Richard Prince, Anish Kapoor and Matthew Barney.
Education
He completed his education in Middlebury, Vermont and then what's touted to be a prestigious institute, the NYU. He aced in the subject called 'art history' here.
Social Media
He does have an Instagram account but it is definitely open for public. Naturally, being in the storm of the public eye might not really help his private life with his actress-GF and hence no pics from his side!
Exes
He has earlier been in two known relationships, before he actually met Jennifer. In 2011-2014, he dated Nicholas Holt while from November 2016 to October 2017, he dated Darren Aronofsky.
Social Life
He is a party lover and is also a known face in the high-end social circle of NYC. As per the reports, he is often spotted out hanging out at The Hamptons.
Pictures
Jlaw and Cooke's viral pic
Congratulations 💍 #JenniferLawrence #CookeMaroney pic.twitter.com/vw5BlqOBAW

— JLaw (@Ms_JenLawrence) February 6, 2019
Slaying Together
NEW: #JenniferLawrence is engaged to Cooke Maroney. They've been dating since last year. No word on where or when the wedding will take place, but I accept your invite Jennifer. 😉 pic.twitter.com/JcDC5SIVVW

— Lauren Jones (@LaurenWAVE3TV) February 6, 2019
Happy faces
Jennifer Lawrence and Cooke Maroney are reportedly engaged.

Congrats to the happy couple! 💍❤ pic.twitter.com/dZDPn0SFZv

— Jennifer Lawrence (@JLdaily) February 6, 2019
Style on point
Jennifer Lawrence still going strong with her boyfriend Cooke Maroney she looks cute in that hat pic.twitter.com/50Bn7a1O3p

— Jay Johnson (@jayjohns1228) January 30, 2019
Candid
It's 💍fficial:

Jennifer Lawrence and Cooke Maroney are getting married!

Congratulations😘💕💕 pic.twitter.com/WTDZkdSxN5

— ShinYoung (@shinyoung03) February 6, 2019
Well, Jen is up for a new phase of her life now and she is already daydreaming about her wedding now! We're glad she found a person with whom she can spend her entire life with and we can't wait to know about the wedding date already!