Justin Bieber and Hailey Baldwin are #couple goals. Whether it is their adorable lunch date outings or just about leaving lovey-dovey comments on each other's posts, they scream of couple goals. Usually Justin Bieber's comments of Hailey's posts have been lovely ones or simply smitten ones; however, the recent comment Justin made on one of Hailey's photo is grabbing headlines. The question comment he made on Hailey's latest picture is actually ambiguous. Does Hailey Baldwin Bieber Snoop On Husband Justin Bieber's phone? The Model Answers!
On a photo, that Hailey posted with a caption, "rang in the New Year with these lovely ladies🎆🎇 @keliamoniz @lauralentz #LauraLooks2" Bieber commented saying "babe are those ur knees" Yes! He asked her if her boobs were her knees without question mark though. We really don't know if he was being serious or just pulling Hailey's leg. Take a look at Hailey's picture and Bieber's comment on it.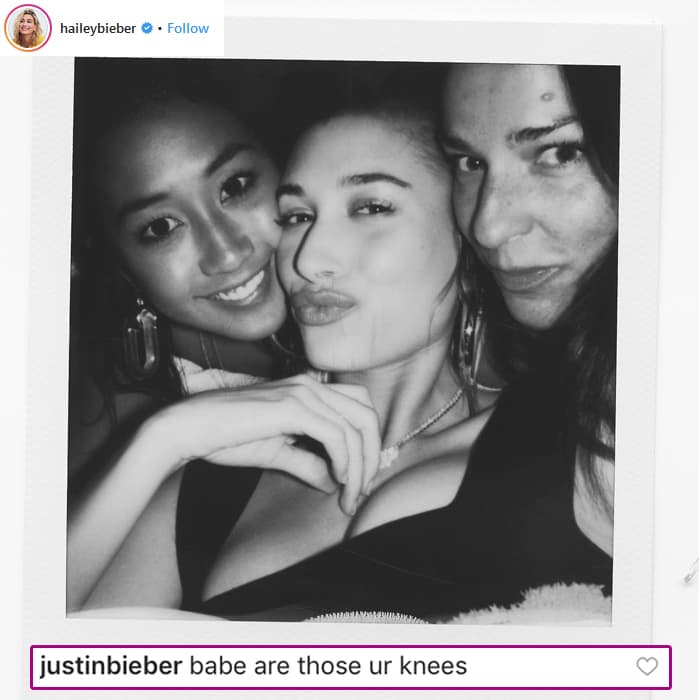 Hailey Baldwin recently also opened up about her anxiety on Instagram. Her husband Justin Bieber and other celebrities showed their support by commenting on the post. Take a look at the Instagram post.
They have been giving us cute outing pictures to drool at. They were recently spotted going to the beach together in Santa Monica and as usual looked terrific.