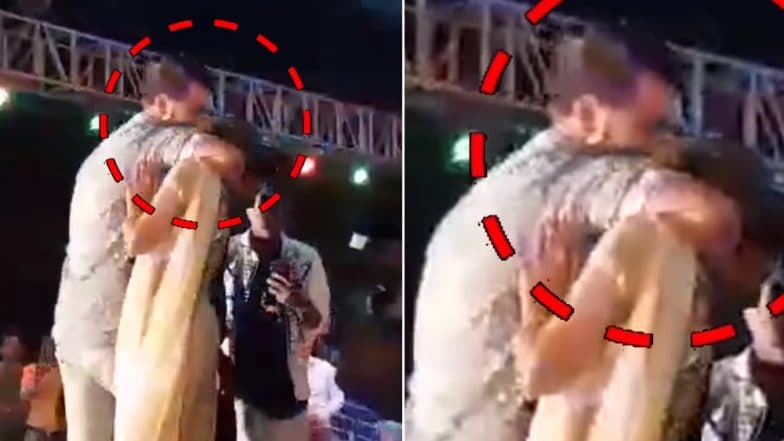 As Valentine Week 2019 is being celebrated currently, February 13 is celebrated as Kiss day. A throwback video of Sapna Choudhary getting kissed by a man while performing on stage is going viral. Sapna Choudhary who is a popular singing and dancing sensation in Haryana. The throwback video which is now going viral is from her April 2018 performance. Sapna was performing in Faridabad for an event when a man joined her on stage and was seen kissing hugging and kissing her.
Even though the video looks misleading, it was later found that the man who jumped on stage to dance with Sapna was none other than Karan Mirza. Karan is known to be like a brother to Sapna. Bhojpuri Actress Akshara Singh's Show Gets Stopped Mid-Way as Crazy Fans Pelt Stones on the Stage (Watch Video).
Watch the video of Sapna's performance here:
Luckily, the man who jumped on stage was not a stranger and hence and hence the event continued to take place smoothly. Previously, during a performance in Kanpur, Sapna's show was stopped midway after some people created ruckus at the venue. Considering Sapna has a huge fan following, it becomes difficult to manage her fans who swamp the event without much regard for rules.
In most cases, the organisers of such shows are not careful enough. Recently, Bhojpuri actress Akshara Singh's performance too had to be stopped midway owing to chaos created by her fans.