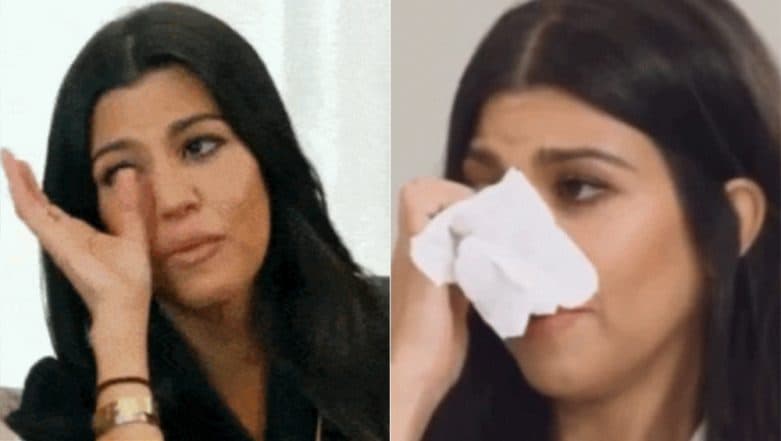 Remember when Kourtney was the smart Kardashian and told Kim Kardashian to shut up when she cried over losing a diamond earring in the ocean while swimming? Well, now the same Kourtney is crying over hitting 40 and people can't stop laughing over it. Not too long ago, Whoopi Goldberg was criticised for talking trash about Bella Thorne after the nude picture fiasco. But this time, she's giving people the laughs with her opinion on Kourtney Kardashian crying over turning 40, on her show Keeping Up With The Kardashians. The View's hosts had a fun time laughing over this but opinions on Kourtney soon led to an argument between two co-hosts, Meghan McCain and Joy Behar. Beyoncé's New Song 'Spirit' For The Lion King Has Been Dropped And It Is Euphonious - Check It Out!
Kourtney Kardashian has feeling low about turning 40 on the new episode of Keeping Up With The Kardashians. She's sitting with Khloe and having a talk about turning 40 and how things are changing. While Kourtney devours her salad and talks to Khloe, she expresses how she's getting anxiety after turning 40 and starts to cry. Khloe gives her a hug and tries to comfort her eldest sister. We're not sure if Kourtney tried to look deep by saying all this and crying, but people on the internet found it absolutely hilarious. Especially the hosts of the show, The View. Thirstday Special: These Hot Pics Prove Why Zendaya Is KWEEN!
Video of Kourtney Kardashian Crying Over Hitting 40
The View's reaction to Kourtney
The famous star of the show, Whoopi Goldberg fell on the grown as a joke after the clip of Kourtney crying played. She pretended to be so in shock that she slipped from her seat and landed on the floor. Joy Behar, the oldest one on the panel says she feels the oldest Kardashian's pain. Joy Behar is 76. The talk show soon turned into a minor argument between two of the hosts. Whoopi Goldberg soon ended the fight by calling for a break and ending it. Social media, too, laughed at Kourtney for crying.