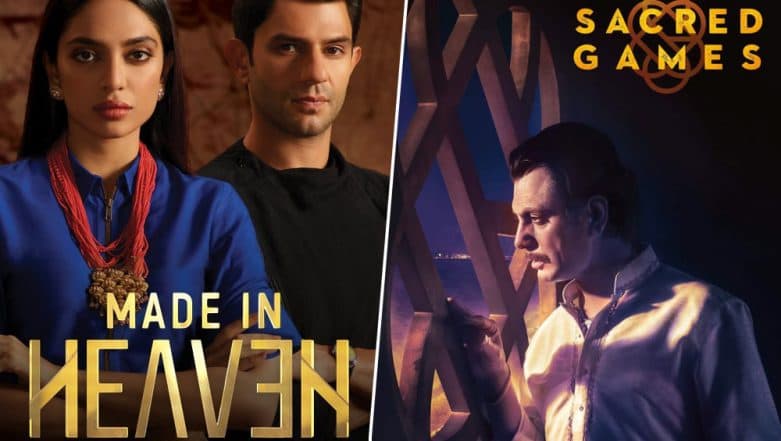 The past weekend was spent binge-watching Made In Heaven, Zoya Akhtar's first web series, on Amazone Prime. The last Indian web series I remember binge-watching was Sacred Games. Yes, Made In Heaven has that impact on you. Even as the trailer puts it out as just another web series on Indian weddings, it is much more than that and it's difficult to leave it at one episode, hence, you may end up binge-watching it. The best thing about Made In Heaven is that even though there are so many stories being narrated at once, at no point would the show come across as complicated and all credits to the writing for that. Made In Heaven Review: Zoya Akhtar and Team Take A Deeper Look At Indian Society In the Backdrop of Big Fat Indian Weddings.
After finishing the web show, I found it better than Sacred Games. Yes, it's two different genres and cannot be compared, but Made In Heaven has the tendency to move you more than Sacred Games may. Here are some reasons why I found Made In Heaven better than Sacred Games:
Unexpected (The surprise element)
Made In Heaven, with its writing, performances, storyline and scenes, leaves you more surprised than Sacred Games did. Although Sacred Games was gripping and kept you biting your nails, Made In Heaven grips you in a way that it manipulates your brain and makes you think about little things in life. There will be points in the show where you would expect a character to react to things in a certain way, but you'll be surprised or shocked at the way the character would actually end up reacting and justifiably so. Another thing that surprises you is the way Gay sex has been dealt with in the story and visuals. It's beautiful and has never been seen before on Indian screens. Made In Heaven Trailer: Gully Boy Makers Zoya Akhtar & Team's Amazon Prime Series on Crazy Rich Indian Weddings Looks Exciting! (Watch Video)
Smooth Writing and Direction
Everything from the characters to the story and the scenes is written in a manner that there is a smooth transition not just between the scenes but between episodes too. Like I said, at no point would the show make you feel like it's all khichdi, despite the fact that there are multiple stories being told at once. Every story in the show is very clean and clear, no story is left unfinished, none of it is sidelined. Kudos to Zoya Akhtar, Reema Kagti, Nitya Mehra and Alankrita Shrivastava.
Solid Performances
Every actor in the entire Season 1 of Made In Heaven justifies the character that they play. There are layers to every character and the actors bring them out with ease. Jim Sarbh as the rich Punjabi tycoon in Delhi is as good as he was as Malik Kafur in Padmaavat. Kalki Koechlin is effortlessly good. Sobhita Dhulipala as Tara and Arjun Mathur as Karan are convincing, endearing, beautiful and nuanced. For me, apart from the leads, the standout performances are Shashank Arora as Kabir, Shivani Raghuvanshi as Jazz and Vinay Pathak as Gupta ji. I also wished for more of Vikrant Massey in the show than just one episode. The only character that could have done with a better Punjabi accent was the Ludhiana bride.
Watch: Made In Heaven Review
Real, Relatable, Subtle Yet Brutal And In Your Face
The best thing about Made In Heaven is that it's real. It is relatable at many levels. The reality is put out in your face sometimes as subtle digs and at other times, brutal. There are several stereotypes and mind-blocks that the show attempts to break and it succeeds in doing so in both a subtle and brutal manner. Every episode ends with the narration of a conclusion, which leaves you thinking of life, questioning the 'rules' and wanting to break out.
If you're judging Made In Heaven by its trailer, you're doing it wrong. Once you begin watching the show, it's hard to leave it at one episode. So while it has the gripping, thrilling, suspense qualities of Sacred Games, the fact that it is so real, relatable and convincing, makes it take the cake away.