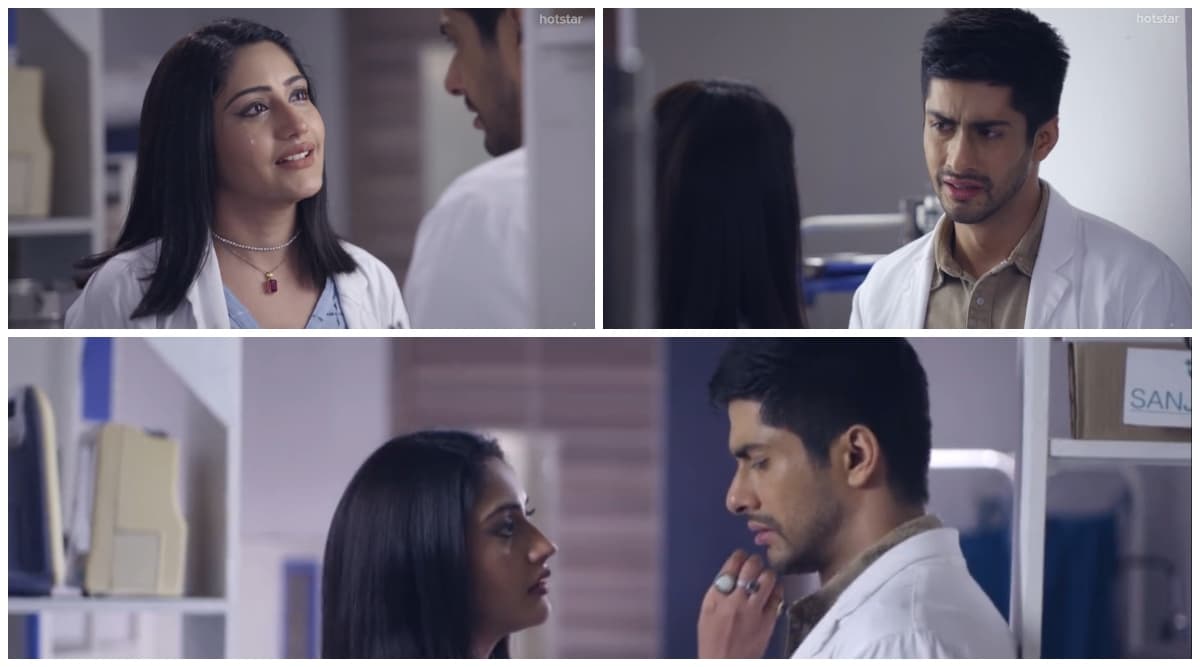 In yesterday's episode of Sanjivani 2 Asha joins hands with Rishab after receiving a warning from Vardhan. Rishab asks Ishaani out for a coffee date. Sid vows that he will never allow this to happen. In tonight's episode, we see Sid (Namit Khanna) come and tell Ishaani (Surbhi Chandna) that he was with her all the way. Ishaani is shocked to see him. Vardhan (Ronit Roy)asks Asha if she has managed to come up with a plan to separate Sid from Ishaani. He warns Asha to finish her work soon. Sanjivani 2 December 12, 2019 Written Update Full Episode: Asha Joins Hands With Rishab to Separate Sid From Ishaani.
 Rishab sees Sid and asks what is he doing there?  Rishab taunts Sid and asks him to come with his pregnant wife for coffee and not go out with other girls. Sid is upset and tells Ishaani is his and that Rishab will never be able to take her away from him. Sid calls Rishab's girlfriend to trap him. Rishab and his girlfriend fight with each other. Sid tells Ishaani he had promised he will not allow her to have coffee with Rishab.
Ishaani tells Sid that if he loves her then he should give a name to their relationship. Sid reiterates that he will not allow Ishaani to go out of his life.  Ishaani gets emotional and leaves from there. Sid follows Ishaani. Meanwhile, Rishab comes and tells Asha that Sid came and ruined his date. Asha is tensed as Vardhan will shout at her for failing again. Sanjivani 2 December 11, 2019 Written Update Full Episode: Sid Continues to Express His Feelings for Ishaani and This Angers Asha.
Ishaani reaches home. She is disturbed as Sid is not ready to listen to anything. Sid comes there and Ishaani shouts at him and even orders him to leave. Sid puts handcuff on Ishaani's hand, he hugs Ishaani and tells her no one can separate them (tere bina duniya khali khali sah lagey track plays in the background). Sid kisses Ishaani.
Asha is scared of how to face Vardhan as her plan failed.  Vardhan comes and asks her the status of her mission. Asha tells him how she sent Rishab and Ishaani on a date. Vardhan cross-checks and tells her that he saw Rishab doing rounds at the hospital. Vardhan is furious at Asha after she fails to succeed in such a small task. Asha pleads to Vardhan and even says that she cannot do this work. Asha tells Ishaani and Sid are good people and she cannot harm them. Vardhan tells Asha that he is terminating her from Sanjivani and goes to get the letter.
Asha requests Vardhan not to do so and asks for forgiveness. Vardhan gives Asha her termination letter and tells her to get out of Sanjivani. Asha tells her parents will die of shame. Vardhan tells if she would have done his work with her full determination then she would have succeeded in their plan. Vardhan says he will keep her termination letter in his pocket and the day she fails to do her work he will give her. Asha tells that she will separate Sid and Ishaani and leaves.
Sid gets romantic with Ishaani (tu hi dil hai mera track plays in the background). Sid kisses Ishaani. Asha watches them and gets upset. In the precap, Sid tells Asha his love does not need proof. Sid also tells Asha that she cannot separate him from Ishaani.