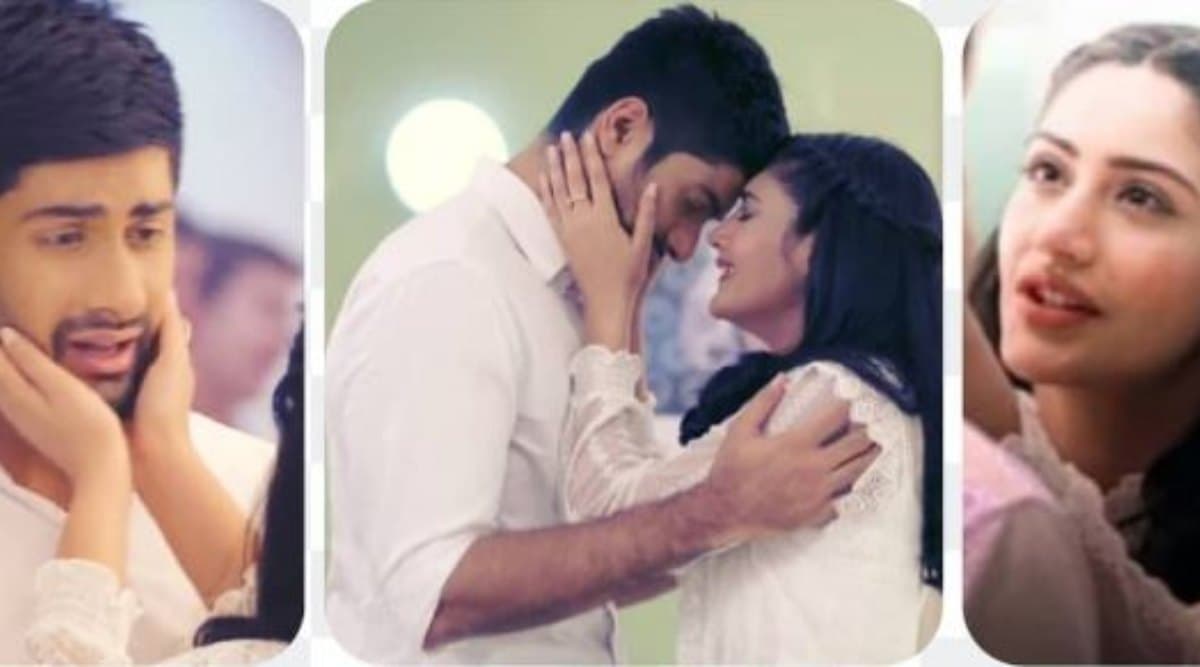 In yesterday's episode of Sanjivani 2, Sid and Ishaani confront Asha regarding her continuous misdeeds against Sid. Ishaani gets a romantic surprise from Sid. In tonight's episode, we see Sid (Namit Khanna)tries to convince Ishaani (Surbhi Chandna) about his love. Ishaani gets emotional as she is upset because of his marital status, she cries (aaise kyu saja paye hum pyaar mein track plays in the background). Ishaani requests Sid to go from there. Sid sings a song for her to make her understand that he loves her only (mein tere ban jawunga track plays in the background). Ishaani tries to control her feelings and goes inside. Sanjivani 2 December 10, 2019 Written Update Full Episode: Ishaani Is Unclear About Her Feelings for Sid, While the Latter Is Firm About His Decision.
Later when she sees Sid still standing outside and getting wet. Ishaani goes to give him the umbrella. Sid gets happy to see her. Ishaani tells him to go home and not act like a child. Sid holds her and tries to kiss her. Ishaani orders him to go home as she is feeling difficult to control her feelings. Sid goes from there but says he will be back soon.
At Sid's house, when Asha sees him home she asks where was he till now? Asha goes on asking him why he is not answering her. Asha tells if he behaves like this does he think she will go from here. Sid does not answer her and gives her the medicine and injection and tells her to go and take rest. Sid tells that he will take full care of her child and that she should not accept anything more from him. Sid tells that he only loves Ishaani and she should not try to come between them. Sanjivani 2 December 9, 2019 Written Update Full Episode: Sid Chooses Asha's Unborn Child Over His Love for Ishaani.
Next day in Sanjivani, when Ishaani tries to swipe her attendance card she is not able to do it. Just then Sid comes and helps her. Sid tells her that if they both get together then all the problems of life will go smoothly. Ishaani sees Asha and gets upset and goes from there. Sid also sees Asha but ignores her and leaves.
Vardhan (Ronit Roy) comes to meet Sid's patient. Vardhan tells him about an offer if he is interested in it. He explains the patient about his offer. Meanwhile, Sid continues his try on Ishaani. He follows her and tries to express his love for her. Ishaani runs away from him (Tu hi mere duniya track plays in the background). Just then Asha dashes with Sid and her mangalsutra gets caught in his coat. Ishaani sees this and gets upset. Sanjivani 2 November 8, 2019 Written Update Full Episode: Sid and Ishaani Struggle With their Feelings for Each Other.
Ishaani thinks she has to control her feelings. Ishaani knows that till Sid comes in front of her she cannot control her heart. Juhi (Gurdeep Kohli) on the other side discusses with Shashank (Mohnish Bahl) about Sid's problem. Juhi feels bad for Sid and requests Shashank to talk with him once before going to the World Health Seminar. Ishaani hides from Sid and suddenly sees the morgue room open by itself and calls out to find if someone is there. Ishaani goes inside the room to see. Ishaani sees one of the bodies lying down is shaking and gets scared. Ishaani goes to examine it. Ishaani screams seeing it. In the precap, Sid tells Asha that till now she just saw his soft side but when she sees his love for Ishaani she will understand what he meant by it.