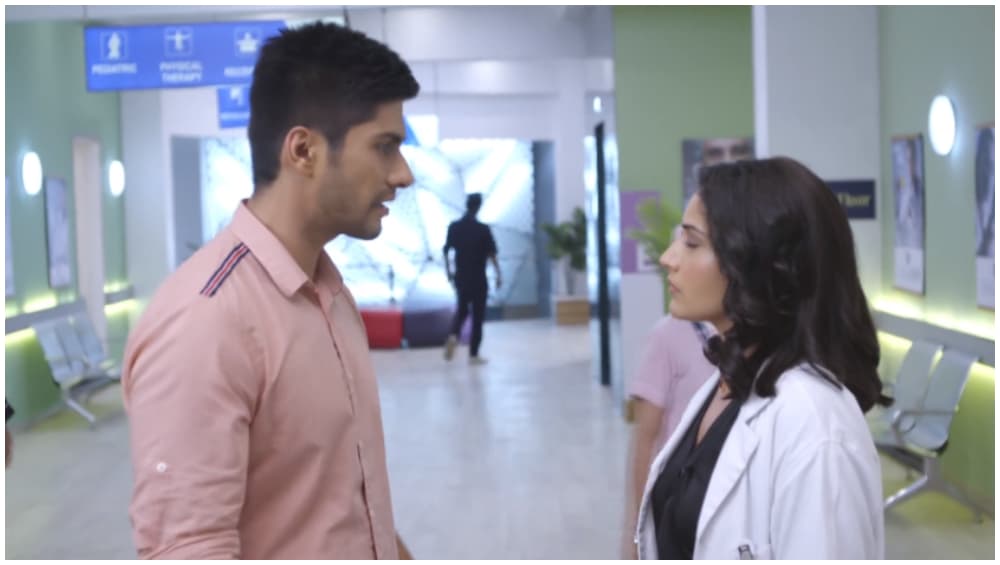 In yesterday's episode of Sanjivani 2, Sid sings a song for Ishaani to show her how much he loves her. Ishaani tells Sid to be away from her. Sid Tell Asha that she should not come between him and Ishaani. In tonight's episode, we see Ishaani (Surbhi Chandna) comes inside the morgue as she feels someone is inside. Ishaani gets angry when she sees Sid (Namit Khanna) inside the morgue room. Sid tells Ishaani that he will follow her everywhere. Meanwhile, Vardhan (Ronit Roy) berates Asha as she is doing nothing to stop Ishaani and Sid's love story. Vardhan warns her if she does not do anything then he will inform her parents about her pregnancy. Sanjivani 2 December 11, 2019 Written Update Full Episode: Sid Continues to Express His Feelings for Ishaani and This Angers Asha.
Asha tells she does not know what to do. Vadhan tells her that if she does not do anything then he will destroy her life. Asha gets disturbed as what will she do now? Rishab shouts at one of his resident doctors. He tells if he had any doubt then he should have come to him and not to Sid. Asha comes and asks why he is so angry?  Rishab tells her to do her work and not interfere in his. Asha tells Rishab that he wants to destroy and give pain to Sid. Asha tells that she will join hands with him. Asha also tells that they both can together separate Sid and Ishaani.
Ishaani is having her coffee in the room. Sid watches her hiding behind a pillar. Rishab comes and asks Ishaani to come with him for a coffee date. Rishab tells Ishaani he wants to become her friend. Rishab tells Sid is busy in his married life. Ishaani is uncertain and tells she has some work. Rishab tells her not to break his heart and accept the offer. Ishaani sees Sid watching her. Ishaani tells Rishab she is free after 4'clock. Sid gets furious and comes and asks why she agreed to go with him. Ishaani tells Sid that he is married and he should be away from her. Ishaani tells it is her decision and he should not interfere. Ishaani says she loves him but they have to think about the society also. Sid tells that their love is enough and they should not care about anyone. Ishaani makes Sid understand that they should live their life separately. Sid tells that he will do what he wants and not care about society.
Sid tells Ishaani that he will not allow her to have coffee with Rishab and leaves. Ishaani gets emotional and cries.  Sid comes to Asha and tells he knows that she told Rishab to ask Ishaani for coffee. Sid berates her that she should stop doing this silly thing. Sid tells Asha she just saw her good side but now she will see his love for Ishaani. Sanjivani 2 December 10, 2019 Written Update Full Episode: Ishaani Is Unclear About Her Feelings for Sid, While the Latter Is Firm About His Decision.
Later when Ishaani is on the way to meet Rishab, she hears Sid's voice and wonders where is he. Rishab comes and takes her inside the café. Ishaani feels Sid is somewhere near. Asha thinks did Ishaani go with Rishab to have coffee as this is the only way by which Sid and Ishaani can be separated. Rishab tells Ishaani to feel comfortable. He tells her to order her food and goes to meet the café's owner as he is his friend. Suddenly Sid comes and tells Ishaani that she should order for him also. Sid tells this is their first date. Ishaani is shocked to see him in the café.
In the precap, Sid gets romantic with Ishaani while Vardhan warns Asha and makes her termination letter. Vardhan tells if she is not able to separate Sid from Ishaani then he will remove her from the hospital.