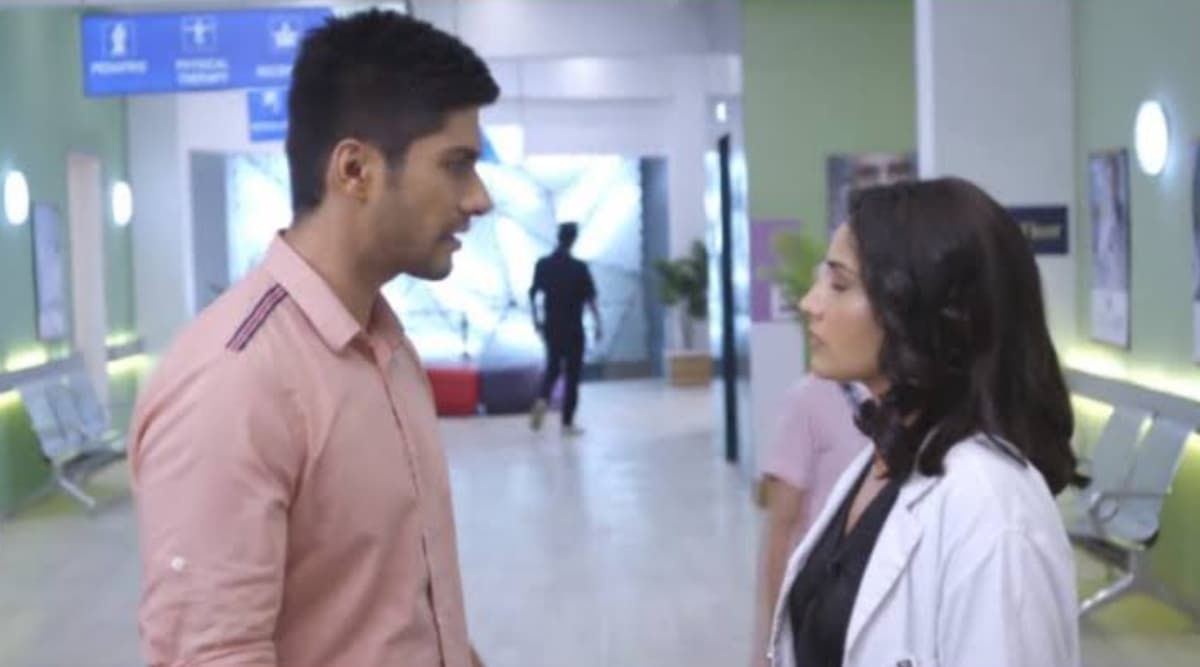 In the last episode of Sanjivani 2, Anjali tries to cope with the loss of her father. Sid and Ishaani search for clues against Vardhan and stumble upon a blood-curdling discovery. In tonight's episode we see Vardhan (Ronit Roy) comes in his secret room to check as he feels someone has sneaked in. Vardhan does not see Sid (Namit Khanna) and Ishaani (Surbhi Chandna) who are hiding under the bed. Vardhan tells the patients that tomorrow they will all go to their home and his work will be done. Vardhan tells that he will not let Anjali fulfill her dreams to head Sanjivani. Vardhan tells as her father is Shashank he will not allow any of her dreams to come true. Sanjivani 2 January 9, 2020 Written Update Full Episode: Vardhan Decides to Attack Sid At His Lowest Phase, Ishani Comes to His Rescue.
Ishaani and Sid makes their way out of the room. Sid tells Ishaani that he will not leave Vardhan. Ishaani tells that they should go to the police. Sid tells Ishaani that they cannot go to the police as the in-charge of that ward is Anjali and she will be trapped in this scam. Sid tells that he has to save Anjali as after Shashank's demise she is left all alone. Sid tells Ishaani that they have to plan something to save the girls. Ishaani tells they have to save Anjali, the girls, and Sanjivani from the hands of Vardhan. Sanjivani 2 January 8, 2020 Written Update Full Episode: Shashank's Untimely Demise Makes Roshni Reveal That Sid Is His Son.
Next day morning, Sid sees Anjali and goes to tell her about Vardhan but she ignores him. Ishaani comes and consoles him and tells him to give Anjali little time and then everything will be normal soon. Ishaani tells him they have to plan something soon to save Anjali (Sayantani Ghosh)and the girls first.
Meanwhile, Vardhan tells the police about the scandal going on in Sanjivani and that Anjali is behind all this. Vardhan takes the police to the luxury ward to show him the proof that Anjali is doing all illegal things. Vardhan takes the police to the hidden room. When Vardhan comes inside the room he is shocked to see no patient inside.
Sid and Ishaani on the other side, hide the patients inside one room. Rahiil is shocked when he sees that so many girls were trapped in Sanjivani and they were unaware of it. Vardhan gets enraged and thinks who has done this. Sid tells Rahiil that he will not allow anything wrong to be done in Sanjivani. Sid tells he will save Anjali and not allow her reputation to get spoilt. Ishaani tells that she is with him.
Vardhan thinks that he will not leave Ishaani and Sid as he is sure they are behind all this. Ishaani tells Sid that Vardhan might have come to know by now that they are both involved in this. Rahiil tells that they should be careful as Vardhan can harm them.
Vardhan hires a goon and gives him some money and show him Ishaani and Sid's photo. Vardhan tells the goon that he should kill the one and put the blame on the other. Sid and Anjali go to Anjali's cabin to talk with her. Sid tells Anjali that they want to talk to her about an important thing. Ishaani tells Anjali that this is about Shashank's legacy and his prestige. Sid tells Anjali that Vardhan is behind all the wrongdoings in Sanjivani. Sid tells Anjali about the secret room and what Vardhan does there. Sid tells Anjali that Vardhan wanted to take revenge from Shashank. Vardhan tried to ruin his life as he is Shashank's son. Sid tells Anjali that he wants to ruin her life too. Anjali remembers Vardhan's word and gets disturbed. Anjali asks them if they have any proof against Vardhan. Sid tells that they have seen it but do not have any strong proof. Sid tells Vardhan wants to be in the place of Shashank and for that he can go to any extent. Sid tells Anjali that he swears on Shashank that he is telling the truth.
In the precap, Sid and Ishaani get trapped in Vardhan's foul play.