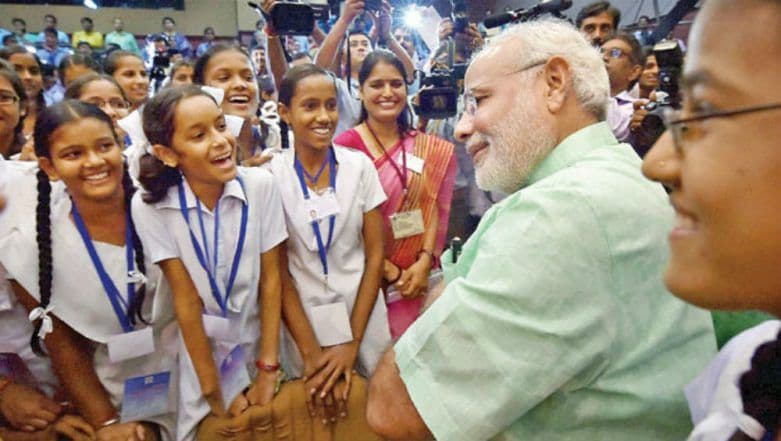 New Delhi, February 16: Prime Minister Narendra Modi will be holding a unique 'Pariksha Pe Charcha' programme on Friday, to help students who are appearing for exams relieve the stress. As part of his Pariksha Par Charcha, the Prime Minister will interact with lakhs students and address their examination-related concerns discuss exam-related issues through a video conference from Delhi's Talkatora Stadium at 11:00 am.
As per reports by ANI, nearly 10 crore students from across the country will participate in the programme. Around 10 students will get an opportunity to ask questions directly. Students can also interact with Prime Minister Modi via the Narendra Modi app, the MyGov website, or through social media by using the hashtag #ExamWarriors. The programme will be telecast on Doordarshan, All India Radio, YouTube and all government websites 12 noon onwards. Students from Class 6 to 12 have been asked to watch its telecast.
The live streaming of the Pariksha Par Charcha can be watched here.
The 'Pariksha Pe Charcha' programme comes days after the Prime minister launched his book "Exam Warriors" that lists mantras to help students to stay calm before the examination. In order to reach out to the students and prepare them to face the difficulties ahead of their exams, PM Modi has also penned a book, 'Exam Warriors' that is available in bookstores for Rs 100.
I am extremely eager to interact with young friends, teachers and parents on the need to appear for exams with a smile, without any stress. This 'Pariksha Pe Charcha' begins at 12 noon tomorrow.

— Narendra Modi (@narendramodi) February 15, 2018
In his recently launched book named "Exam Warriors", the Prime Minister urges students to "be warriors, not worriers". "Treat exams like festivals" and "a happy mind is the secret of a good mark sheet" are among other suggestions. University Grants Commission's (UGC) has issued a directive asking all states to arrange for students in educational institutions to hear Prime Minister Narendra Modi's speech.
As per reports, Central Board of Secondary Education (CBSE) has asked all its schools to make necessary arrangements in the schools to enable the students to Prime Minister Narendra Modi's interaction with students 'Pariksha Par Charcha'.  In the last week, PM Modi requested students to share their thoughts on pressure, anxiety related to examination and suggest ways de-stress on the Narendra Modi and MyGov app.