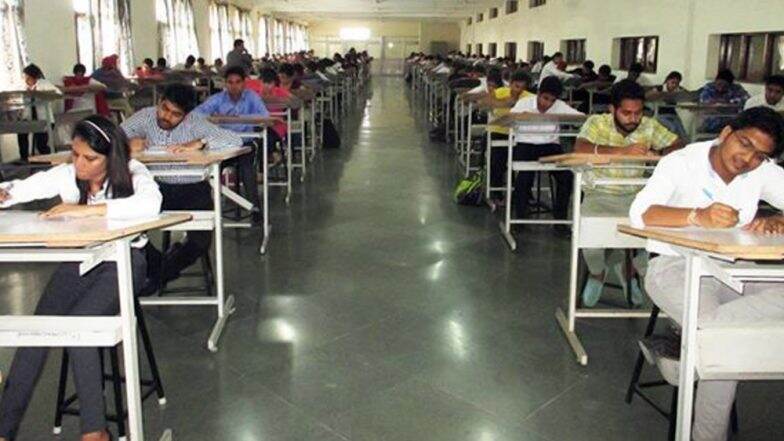 Mass copying in exams is a menace that the states of Uttar Pradesh and Bihar have long dealt with. Last year, Uttar Pradesh chief minister Yogi Adityanath made news after he ordered strict measures to curb mass coping. UP Board Exams 2019: 'Cheaters' Will be Booked Under NSA, Says Deputy CM Dinesh Sharma.
However, this year the stringent measures adopted by the UP government to check mass copying has resulted in 2.72 lakh students giving their papers a miss and skipping the exam on day 3 of UP Board examinations. Funny Exam Answer Sheets: UP 12th Board Students Wrote Love Letters, Emotional Threats and Offer Bribes to Pass Exams.
The mass absence was reported on Tuesday, informed the officials.
As per the data released by UP Madhyamik Shiksha Parishad, so far 3,12,844 candidates have skipped the High School and Intermediate exam this year.
The Hindustan Times quoted Neena Srivastava, secretary of UP Board as saying that on Tuesday, 2,72,452 students skipped their exams. This is the largest number of students who skipped exam in a single day during any examination year in UP.
However, the second largest number of students skipping exam on a single day before this was also this year. On Friday, February 9, 2019, 40,392 students missed the exams on Day 2 of the examinations.
Srivastava also said that the number is bound to go up as final numbers from all the districts are yet to be compiled. The secretary of UP exam also said that CCTV cameras and voice recorder system used to fight mass copying has been used this time which can be the reason behind so many students purposely not giving the exam.
Earlier, in January, sounding an alarm for those who aid and abet cheating during board exams, the Uttar Pradesh government had said that it might use the stringent National Security Act (NSA) to save the future of thousands of children who take the test. "We will take stringent action against those who run gangs that aid the use of unfair means during board exams, change answer sheets, leak question papers and resort to other mass-copying antics. We will take stringent action against them and not hesitate," the minister had said. Observers believe that the warning is also one of the reasons why so many students have skipped their exams.