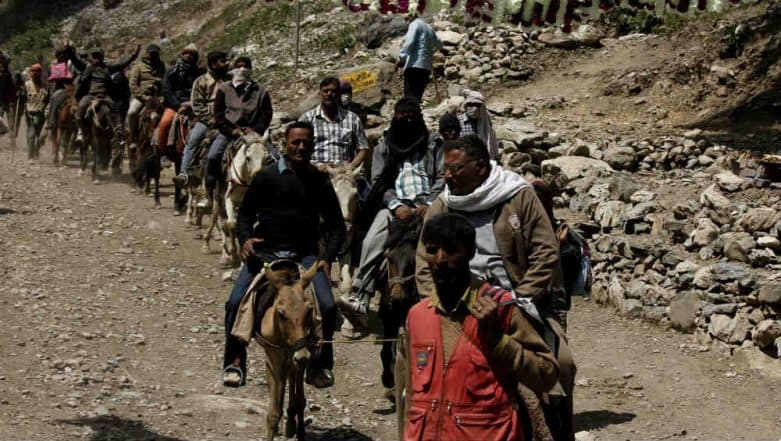 Srinagar, August 3: Panic gripped Amarnath Yatris after the Jammu and Kashmir administration on Friday issued an advisory asking pilgrims and tourists to leave the Valley "immediately". Hundreds of Amarnath Yatris and tourists flocked to the Srinagar airport on Saturday morning seeking tickets for their return. NIT students in Srinagar also started leaving the Valley.
"We watched the news at 8:30 pm yesterday. We felt that something was wrong here. So we decided to return. We were planning to stay here for two more days," a woman traveller told a news channel. Scores of vehicles carrying pilgrims and tourists drove out of the valley on Friday. While several pilgrims had to cut short their Amarnath Yatra, others couldn't even start their pilgrimage. Machail Yatra Suspended Day After Jammu And Kashmir Government Cut Short Amarnath Yatra.
"We had the helicopter tickets to Amaranth today. But after the panic attack by the media last evening, our family back home told us to return as soon as possible...," Manish Agarwal, a pilgrim from Chhattisgarh, was quoted as saying. After the state government's order, airlines also announced to waive off cancellation and rescheduling charges for flights to and from Jammu and Kashmir. Amarnath Yatra: J-K Guv Asks Political Leaders to Maintain Calm, Avoid Rumours.
"In view of the current security situation in Srinagar and the Government advisory regarding it, we are providing a full fee waiver on rescheduling/cancellation for all flights to/from Srinagar till Aug 09," IndiGo said on its official Twitter handle. Vistara tweeted: "Due to prevailing security situation in Kashmir, we are waiving change and cancellation fee for flights to/from Jammu and Kashmir for next 7 days (till August 9)."
In a statement, Air India said: "In view of the prevailing circumstances, the national carrier has decided to give a full fee waiver on rescheduling/cancellation for all Air India flights to/from Srinagar till August 15." The Directorate General of Civil Aviation (DGCA) on Friday also advised airlines to remain ready to operate additional flights from the Srinagar airport if the need arises.
On Friday, the Jammu and Kashmir administration called off the Amarnath Yatra and asked devotees to curtail their pilgrimage. The administration said there is a threat to Amarnath Yatris from militants.
In an advisory, the state government said: "Keeping in view the latest intelligence inputs of terror threats, with specific targeting of the Amarnath Yatra, and given the prevailing security situation in the Kashmir Valley, in the interest of safety and security of the tourists and Amarnath Yatris, it is advised that they may curtail their stay in the Valley immediately and take necessary measures to return as soon as possible."