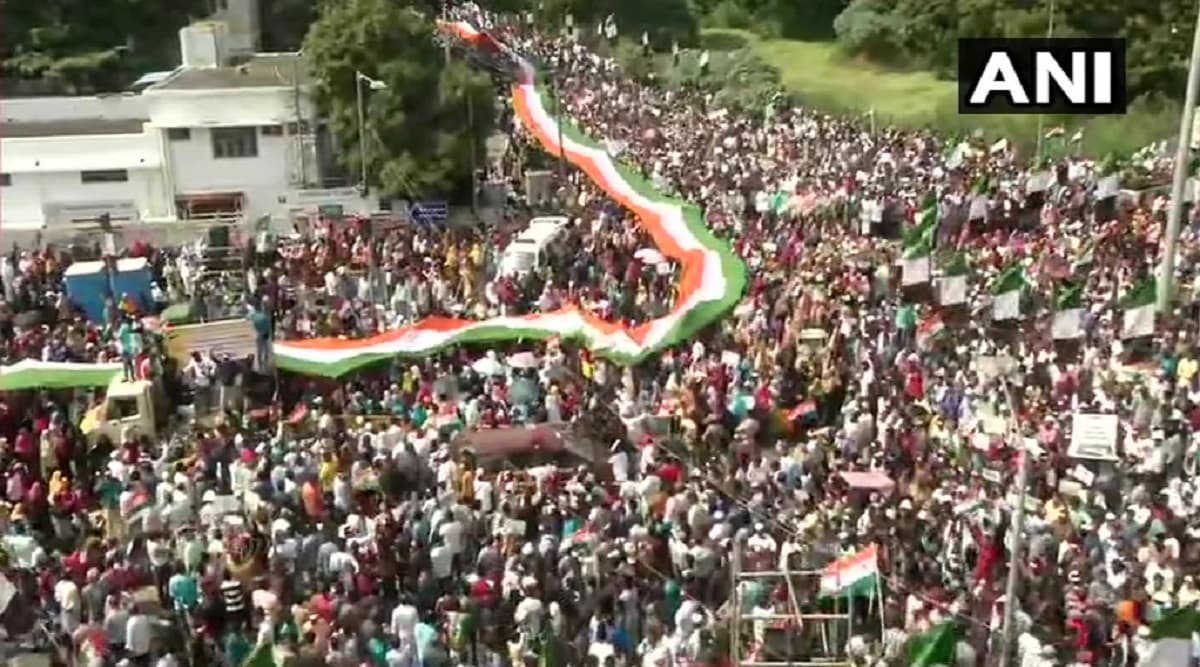 Chennai, December 28: A wave of tricolour featured in the rally against Citizenship Amendment Act (CAA) called in Chennai by a socio-religious group. The protest march was organised by the Tamil Nadu Thowheed Jamath, a non-political organisation in the state which preaches Islam. The anti-CAA demonstration evoked the participation of thousands in Chennai. The rally participants carried an enormously long tricolour, which spread across the twists and turns of the roads on which staged their agitation. CAA Stir: UP Police Register Case Against 10,000 Unnamed AMU Students in Connection With December 15 Violence.
A vast section of Muslims in Tamil  Nadu, along with other parts of India, have been protesting against the CAA -- the law to naturalise non-Muslim refugees from three Islamic countries in the neighbourhood -- as they consider it a ploy before the implementation of National Register of Citizenship (NRC). The CAA, they claim, would guarantee citizenship to non-Muslims left out of the NRC, whereas, the Muslims excluded from the list would have to prove their citizenship before the Foreigners' Tribunals.
Watch Video: Wave of Tricolour in Anti-CAA Stir in Chennai
#WATCH Chennai: Tamil Nadu Thowheed Jamath takes out protest march against #CitizenshipAmendmentAct pic.twitter.com/qC89KuZ1CA

— ANI (@ANI) December 28, 2019
In Tamil Nadu, the ruling AIADMK - which joined the NDA ahead of 2019 general elections - has backed the Centre's CAA-NRC project. The party had voted in favour of the law in Rajya Sabha. The DMK, on the other hand, has been at the forefront of organising protests against the citizenship law. Not only had the party voted against the Bill in Parliament against its alleged anti-Muslim bias, it also raised the issue of Tamilian refugees who have been left out from the CAA's purview.