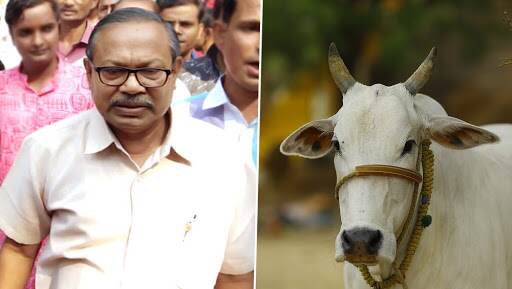 Guwahati, August 27: Bharatiya Janata Party MLA from Assam Dilip Kumar Paul claimed that cows give more milk if a flute is played. Kumar even opined that the amount of milk increases "multiple times" when the flute is played in "a special tune which Lord Krishna used to do".
Expressing his opinion at the opening ceremony of a folk festival in Silchar on Sunday, Paul had said, as reported by Indian Express, "It has been proven by modern scientists that if we can play the flute in a special tune, which Lord Krishna used to do, the amount of milk increases multiple times." Maharashtra Floods: Amul Redirects Milk Supply for Mumbai and Pune After 1000 Milch Animals Die in State, Seeks Gujarat's Help to Meet Demand
Adding on, the BJP lawmaker stated, "This was the science of ancient times, and we are going to bring this technique back to modern times. I am not a scientist, but with vast knowledge in Indian traditional study, I can say that these claims are true and scientists nowadays have started believing in these ideas."
Earlier, he was re-elected 17 months after being first elected to the state legislative Assembly from Silchar constituency in 2014. Later, Paul was elected as deputy speaker in the Assam Assembly. The BJP lawmaker is a long-time RSS supporter and is one of the 15 MLAs from the Bengali dominant Barak Valley in Assam.