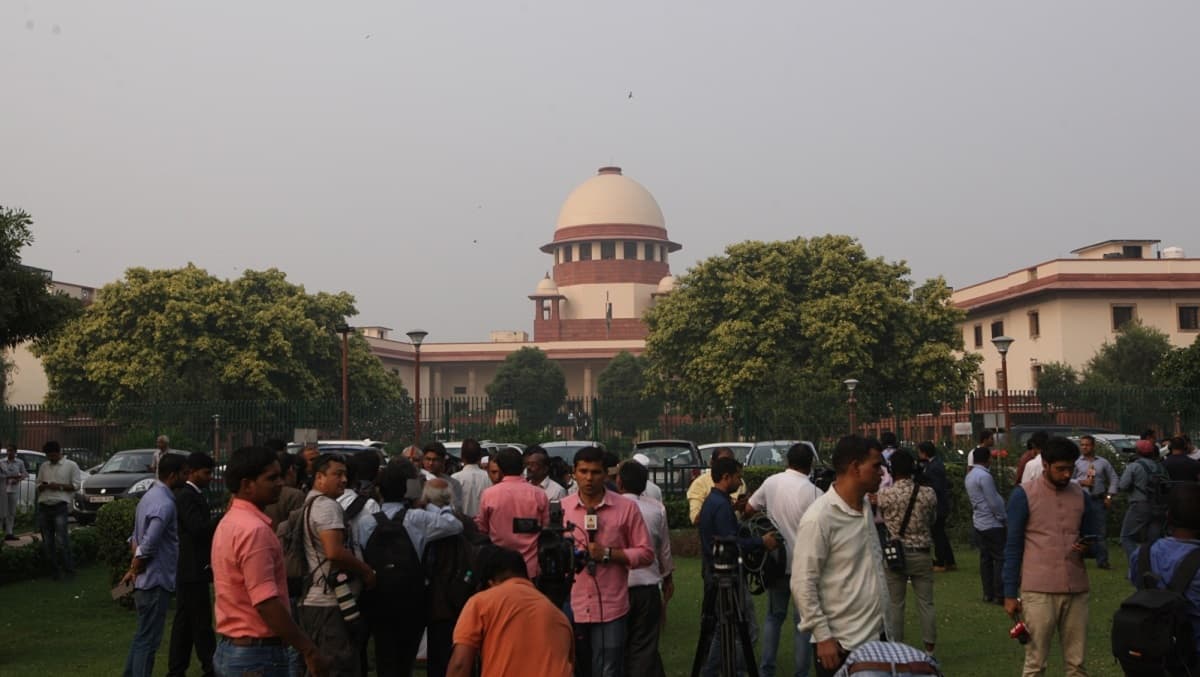 New Delhi, November 9: In a historic judgment, the Supreme Court on Saturday pronounced that the title suit of the disputed land in Ayodhya belongs to the Ramjanmabhoomi Nyas. The court directed that a separate 5-acre land be allocated to the Sunni Waqf Board at a prominent place in Ayodhya to build a mosque. The court has asked the Central Government to form a Trust within the next three months to oversee land allocation and building of the structures. The court made it clear that the verdict by the five-judge bench was unanimous. Ayodhya Case Verdict: Ram Janmabhoomi Nyas Gets Possession of Disputed Site, Sunni Waqf Board to be Given 5-Acre Alternative Land in Ayodhya For Mosque.
Chief Justice of India Ranjan Gogoi, while delivering the verdict on the Ram Janmabhoomi-Babri Masjid title dispute today, made it clear that the verdict was based on legalities and not faith or belief. The court also made some important observations regarding the evidence of worship as well as the demolition of the Babri Masjid.
Here are the big highlights of the Supreme Court verdict on the long-pending Ayodhya land dispute:
"Court should preserve balance. Mosque built by Mir Baqi on order of Babur. Idols were placed in the mosque in 1949."
"There is adequate material in ASI report to conclude the following - Babri Masjid not constructed on vacant land. There was a structure underlying the disputed structure. The underlying structure was not an Islamic structure."
"ASI refrained from recording a finding on whether mosque was built after demolishing a Hindu temple."
"Both Hindu and Muslim witnesses indicate that Hindus and Muslims were offering prayers at the disputed site."
"The Muslims have not brought evidence to show possessory title, there is no evidence to show the offer of Namaz by Muslims to the exclusion of Hindus. Hindus have been able to establish unimpeded possession of outer courtyard. The inner courtyard is a contested site. Evidence indicates no abandonment of mosque by Muslims."
"Destruction of mosque was against the rule of law."
"On balance of probabilities, clear evidence that Hindus worshipped in Outer Courtyard. As regards Inner Courtyard, no evidence by Muslims to show exclusive possession by them prior to 1857."
"A suitable plot of land measuring 5 acres to be handed over to Sunni Waqf Board either by Central Government or State Government. Sunni Waqf Board at liberty to construct a mosque at the allotted land."
"Disputed land possession to be given to Ramjanmabhoomi Nyas to build Ram Mandir."
Security has been tightened across the country in view of the Ayodhya case verdict. The police across states also warned people against spreading hate or circulating fake news on the issue on social media. Police said that social media posts were being monitored and that any person putting up inciting posts will be punished.