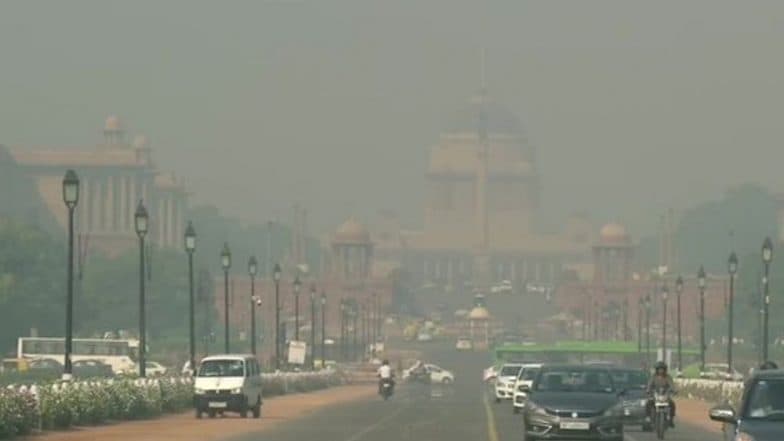 New Delhi, October 12: With a spike in incidents of stubble burning in Punjab and Haryana in last two days, the air quality in Delhi is likely to further deteriorate. According to SAFAR, a forecasting body under the Union Ministry of Earth Sciences, Delhi's air quality will deteriorate today but stay in the poor category. There is, however, more bad news in store for the coming days. Odd-Even Scheme to be Implemented in Delhi From November 4 to 15 to Combat Pollution, Announces Arvind Kejriwal.
"Further air quality is predicted to deteriorate to the lower end of very poor category for the next two days thereafter," SAFAR said in the forecast. According to the Central Pollution Control Board (CPCB), the air quality in the national capital is likely to remain in the low end of poor category today while on Sunday, it will be poor. Arvind Kejriwal Shares Pictures of Clear And Blue Skies in Delhi, Appeals to Citizens to Keep Air Clean.
The air quality entered the poor category on Friday for the first time since the monsoon. It was poor with a count of 93 in the PM 2.5 and moderate in the PM 10 calculation with an overall AQI score of 208. SAFAR cited the low wind speed and westerly wind direction as being unfavourable for air quality.
The biomass fire counts in Punjab and Haryana have significantly increased during the past 24 hours, and such magnitude will now start to influence Delhi's air quality, it said. Delhi Chief Minister Arvind Kejriwal also said that smoke from the burning of stubble in neighbouring states was resulting in "severe" pollution in the national capital.
"Pollution in the city reduced by 25 per cent in the earlier part of the year. But the burning of stubble in neighbouring states in October and November is resulting in severe pollution. The smoke has started affecting Delhi's air quality. We have been taking every possible step to check it," Kejriwal tweeted.
Researchers from Harvard University and NASA had last year found that agricultural fires were responsible for about half of the pollution experienced in Delhi in October and November, a peak stubble burning season in Punjab and Haryana. The air in Delhi surprisingly remained clean following burnings of Ravana effigies marking the festival of Dussehra.
In the last three years, pollution in Delhi decreased by 25 per cent, Kejriwal had announced in September. He has also announced the return of 'Odd-Even' scheme for private vehicles from November 4 to 15 to reduce pollution.