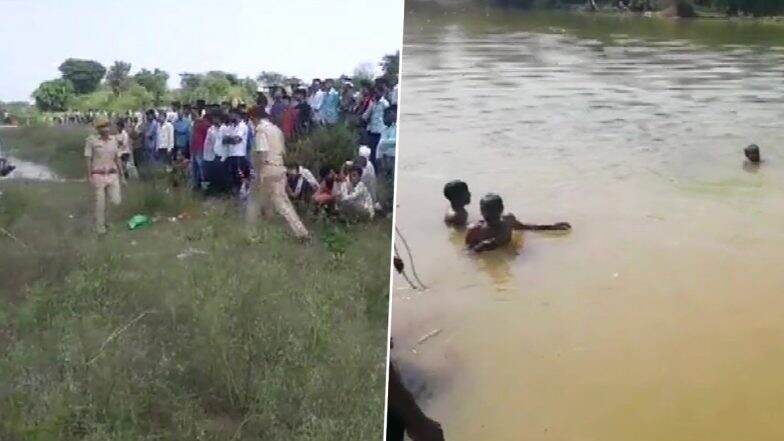 Jaipur, October 9: At least 10 people drowned after being swept away by strong water currents during Durga idol immersion in Rajasthan on Tuesday. According to a tweet by ANI, the incident took place in Parbati river in Dholpur area. Reports inform that when the incident took place, five men drowned on the spot while the others went missing due to strong currents of the Chambal river. Superintendent of Police Mridul Singh Kachchawa had informed that five bodies were been fished out on Friday night.
Local divers and a team State Disaster Response Force (SDRF) were called in for assistance by the district administration. Dholpur District collector Rakesh Jaiswal confirmed the deaths and said ten people have drowned during the incident. "Search operations have been halted for the night and we will resume our search on Wednesday", he said. Durga Puja Pandal Decorated with Over 4,000 Letterboxes, Computer Mouse in Kolkata.
Here's the tweet:
UPDATE: A total of 10 people had drowned during Durga idol immersion in Parbati river in Dholpur. https://t.co/dPqPqtNHEh

— ANI (@ANI) October 9, 2019
The District collector further informed that Rupees 1 lakh financial assistance from Chief Minister Relief Fund will be provided to the families of the deceased. "During the immersion, one of the boys jumped into the river to bath but he started drowning. The others jumped in the river in a bid to save him but they also drowned," said police personnel present at the spot.
During the monsoon season, the Chambal river in the Dholpur district of Rajasthan was flowing above the danger mark after continuous and heavy rains, creating a flood-like situation in the district. The authorities have moved the people to safer places.
Durga Puja, also called Durgotsava is an annual Hindu festival in India which pays homage to the Hindu goddess Durga.  It is particularly popular in West Bengal, Odisha, Assam, Bihar, Jharkhand, Tripura. The 10-day festival is celebrated with great pomp and gaiety in the month of Ashwin, which corresponds to the months of September-October in the Gregorian calendar.