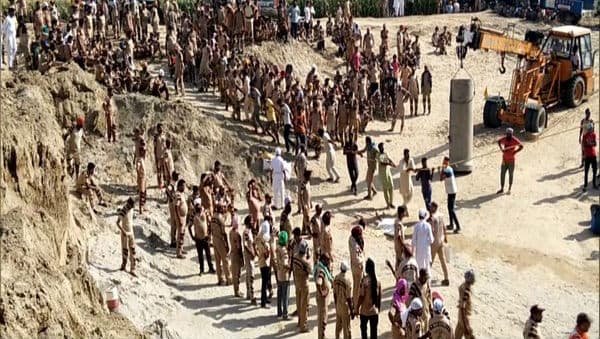 Chandigarh, June 10:  Rescue operations to save Fatehveer Singh, the two-year-old boy, stuck in a 150-foot-deep borewell in Punjab, are in full swing. A team of National Disaster Response Force (NDRF) have been working day and night in a tunnel that was dug parallel to the abandoned borewell. Fatehveer had been trapped in the borewell in Punjab's Sangrur since Thursday. On Sunday, the rescuers said they were close to reaching a boy who has been stuck for over 90 hours. A team of doctors and ambulances have been stationed at the spot to provide emergency aid. Fatehveer Singh, Trapped in 150-Feet Deep Borewell in Punjab's Sangrur, Turns 2 Today.
The rescue operations entered its fifth day on Monday. Today, June 10, Fatehveer Singh turns two-year-old. Reports inform that there was no official confirmation about the health of the child. According to his mother Gagandeep Kaur, the child stumbled into the borewell that was covered with cement bags at around 4 p.m. on June 6.
Watch Live Streaming of Rescue Operation in Punjab:
Punjab Chief Minister Amarinder Singh said he is constantly monitoring the rescue operations by NDRF, local administration and outside experts, which has reached the required depth and are locating Fatehveer. "Have directed all DCs to ensure that no such open borewell exists in any of the districts & have asked them to submit a report within 24 hours. You can call on our helpline number 0172-2740397 if you have information about any such open borewells in your area", Amarinder tweeted. Punjab Toddler Fatehveer Singh Trapped in 150-Feet Deep Borewell for Over 76 Hours, Rescuers Close to Child.
Here's the tweet:
Constantly monitoring the rescue operations by @NDRFHQ, local administration & outside experts, which has reached the required depth & are locating Fatehveer. @VijayIndrSingla & Sangrur DC are overseeing the rescue ops. We stand with his family & pray for his well being.

— Capt.Amarinder Singh (@capt_amarinder) June 10, 2019
According to reports, lack of expertise and technical snags were blamed for the delay in the massive rescue operation. The boy fell into the narrow and deep borewell on the evening of June 6. To reach the bottom of the borewell that has a nine-inch diameter, the newly-laid 36-inch-diameter parallel shaft was used to make passage to the child who was stuck at a depth of 115 feet. Supply of oxygen inside the well is being provided and a camera is being used to monitor the child's condition.
According to reports, a movement in the child's body was noticed at 5 a.m. on Saturday, almost 40 hours after the incident. Since then, there was no movement in his body. We pray for Fatehveer Singh's speedy rescue!