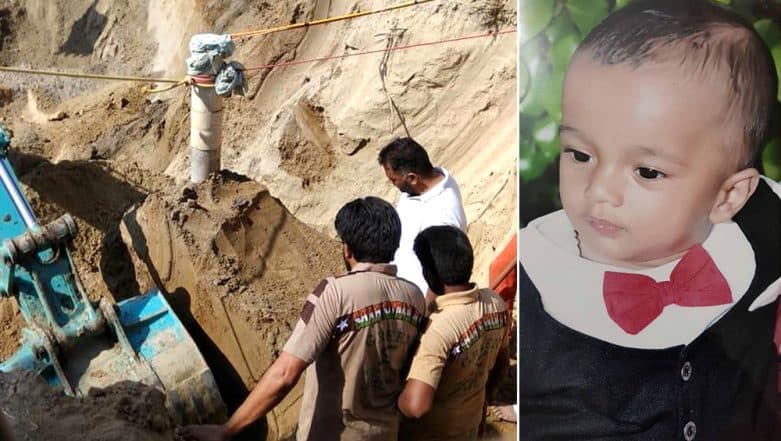 Chandigarh, June 10: The National Disaster Response Force (NDRF) on Sunday failed to rescue a toddler who has been stuck in a 150-foot-deep borewell in Punjab since Thursday. On Sunday, the rescuers said they were quite close to reaching the toddler, but were facing some technical issues to reach the spot. The two-year-old boy Fatehveer Singh, who has been stuck in a 150-foot-deep borewell in Punjab's Sangrur district for past three days, turns 2-year-old on June 10. Punjab Toddler Fatehveer Singh Trapped in 150-Feet Deep Borewell for Over 76 Hours, Rescuers Close to Child. 
The rescue operations are underway for the last 84 hours now. "We are quite close to reaching the child. We were hoping to complete the operation during the day, but we are facing some technical issues and hopefully these will be overcome," district Deputy Commissioner Ganshyam Thori was quoted by PTI. Adequate supply of oxygen inside the well is being provided and a camera is being used to monitor the child's condition. Watch Live Streaming of Rescue Operations Here.
Punjab Chief Minister Amarinder Singh took to Twitter and said he is constantly monitoring the rescue operations by NDRF, local administration and outside experts, which have reached the required depth and are locating the two-year-old boy, Fatehveer.
Here's the tweet:
Constantly monitoring the rescue operations by @NDRFHQ, local administration & outside experts, which has reached the required depth & are locating Fatehveer. @VijayIndrSingla & Sangrur DC are overseeing the rescue ops. We stand with his family & pray for his well being.

— Capt.Amarinder Singh (@capt_amarinder) June 10, 2019
A special teams have worked day and night in a tunnel that was dug parallel to the borewell. Reports inform that a team of doctors and ambulances have been stationed at the spot. According to a report by IANS, a movement in the child's body was noticed at 5 a.m. on Saturday, almost 40 hours after the incident. After that there was no movement in his body.
The toddler fell into the unused borewell in a field when he was playing near his house around 4 pm on Thursday. Reports inform that seven-inch-wide borewell was covered with a cloth and the boy accidentally stepped on it. Officials informed that the boy's mother tried to rescue him, but failed.
The rescue team, comprising 26 members of the NDRF and the Indian Army with district administration staff, has been involved in the day-and-night operation at Bhagwanpura in Sunam subdivision, some 15 kms from district headquarters at Sangrur.