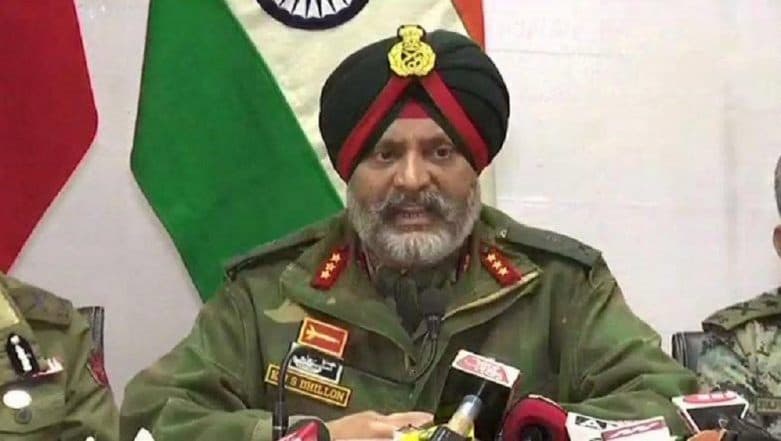 Srinagar, February 19: The Jaish-e-Mohammed (JeM) militants who masterminded the terror attack in Pulwama have been eliminated with 100 hours of the fidayeen strike, said Corps Commander Lt Gen K J S Dhillon of the Chinar Corps in a joint press conference by IG Kashmir S P Pani and IG CRPF Zulfiqar Hasan on Tuesday.
Lt Gen Dhillon charged Pakistan of abetting terrorism in India through proxy groups based in the frontier regions. He also warned the local populace against being influenced by the extremist propaganda, stating that the forces will eliminate all those who "pick up the gun". He also said he requested mothers of Kashmiri militants to persuade their sons to surrender. Pulwama Attack Fallout: Home Ministry, J&K Administration Against Simultaneous Lok Sabha, Assembly Polls in State.
"In a Kashmiri society,mother has great role to play. Through you, I would request the mothers of Kashmir to please request their sons who've joined terrorism to surrender and get back to mainstream. Anyone who has picked up gun will be killed and eliminated,unless he surrenders," he added.
According to Dhillon, security forces had been tracking the top leadership of the JeM since the February 14 bombing in south Kashmir's Pulwama district.
"We have eliminated the top commander who carried out the Pulwama attack," Dhillon said.
Asserting that Pakistan's deep state was directly involved in the terror attack, the senior Army officer said, "There is no doubt that Pakistan Army and the ISI is involved. JeM is a child of the Pakistan Army."
Dhillon further added that all steps are being taken to ensure that the security lapse, as witnessed in Thursday's Pulwama attack, does not recur.