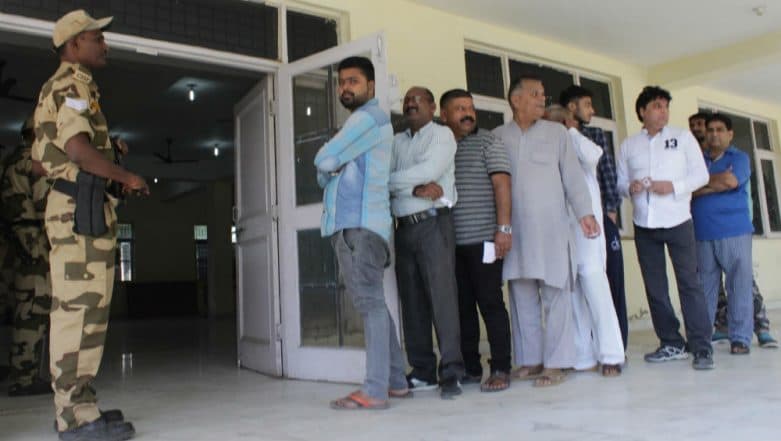 Srinagar, February 19: Following the fatal attack on CRPF convoy in Pulwama last week, the Ministry of Home Affairs along with the J&K administration has expressed apprehensions over the massive movement of troops for conducting statewide elections in Jammu & Kashmir. In a high-level meeting held on Monday - which was attended by officials from the Election Commission - it was recommended not to hold simultaneous assembly and Lok Sabha polls in the state.
The EC officials were asked to hold Lok Sabha elections along with the rest of India, while deferring the assembly polls for a later date. The difficulties were cited by the J&K administration, which claimed that not only the deployment of additional security forces was a strenuous task, but also providing security cover to the candidates was difficult. The view was endorsed by the Home Ministry. Pulwama Attack: Curfew Continues in Jammu and Kashmir for 5th Day on Tuesday.
Notably, J&K elects 88 members for the legislative assembly, and 6 MPs for the Lok Sabha. While the parliamentary polls are due across the nation in summer this year, the tenure of legislature in J&K was cut short due to the dissolution of assembly in December.
The state was placed under Governor's rule in June last year, after the BJP pulled out of the Mehbooba Mufti government. Attempts made by the PDP, with support from NC and Congress to reform the government was thwarted when Governor Satya Pal Malik dissolved the assembly and recommended the imposition of President's rule.
Under the Governor's watch, the State Election Commission succeeded in conducting the panchayat and municipal corporation polls -- for the first time since 2011. The polls, held in November-December last year, witnessed a dismal voter turnout in the Valley.