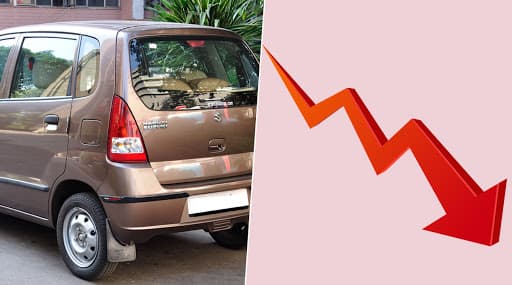 Mumbai, September 15: Country's largest automaker Maruti Suzuki India has seen a market share dip by over 2 (two) percentage points during April-August this year and so did it slipped 50 percent in the domestic passenger vehicle segment amid the economic crisis. The automaker has blamed an increase in ownership cost as the biggest reason for the slowdown in car sales. Also, Maruti has claimed that the confusion over BS-VI vehicles has made life tougher for automakers. Indian Economic Crisis: From Parle to Maruti, Iconic Indian Companies Hit By Slowdown And Dwindling Sales Stare at Job Cuts
With the prevailing crisis putting a brake on the wheels of the auto sector, the industry is clamouring for a cut in goods and services tax (GST) -- from 28 percent to 18 percent -- for reviving demand. However, the decision could come only out on the GST after the September 20 meeting when Union Finance Minister will chair the GST Council meeting.
Stating the reason for the decline, executive director of Maruti Shashank Srivastava said, as quoted by Business Standard, "While we witnessed a growth of almost 26 per cent in the first four months last year, by the end of the year it had fallen to around 3 per cent. By April, there was no scope of sending any new vehicle to the dealers as the pipeline of inventory was already choked. I think the primary reason for this is the increase in the ownership cost of a car." Economic Crisis Hits Automobile Sector: Tata Motors & Honda Lose Sales By Over 50% in August 2019; Here Are All The Details.
Apart from other issues, Srivastava stated that hike in road tax -- along with the increased cost of manufacturing -- to adhere to the BSVI norms had increased on-road prices by an average 14-15 per cent of its cars in the market. Also, he stated that ownership cost went up after lending by banks became stringent.
Earlier, Sitharaman had blamed that the millennials and their mindset for the fall in the auto sector. However, Srivastava had quashed her claims stating that millennials opting for ride-hailing services like Ola and Uber may not be that strong a factor for the current slowdown in auto sales and a detailed study is needed to arrive at any conclusion on the contrary.  Economic Crisis Grips Auto Sector Completely, Passenger Vehicle Sales in August Dip by 31.57% Vis-a-Vis 2018, Suffer Worst Drop in Over Two Decades.
In the month beginning, Society of Indian Automobile Manufacturers (SIAM) reported that domestic vehicle sales in August declined by 23.55 per cent to 18,21,490 units from 23,82,436 units in the same month last year. Maruti had sold 5,55,064 units the first fiscal as compared with 7,57,289 units during April-August previous year. Also, it's market share has come down from 52.16 percent in last year to 49.83 percent in the April-August this fiscal.