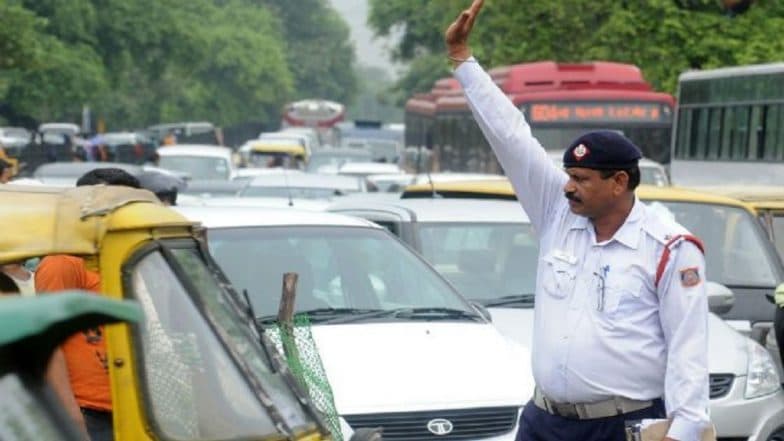 New Delhi, September 12: The new Motor Vehicle (Amendment) Act 2019 has created flutters among a section of the motorists due to the massive amount of fines it imposes traffic rule violators. While a number of new provisions have been introduced in the law, some others have existed all along. However, the fines on them have been significantly raised by the Union Transport Ministry. Here are five such examples.
The fine for not wearing the seat belt on the "front-facing rear seat" of the car was introduced first in 2004. However, the law was not rigorously implemented. Following the passage of amended Motor Vehicles Act on July 31, the fine has been raised from Rs 100 to Rs 1,000. People Wearing Slippers While Riding Motorbike to be Fined Rs 1,000? Some Reports Say So But No Official Confirmation.
Similarly, a fine of Rs 500 existed on motorists driving a vehicle with a disqualified license. The MVA 2019 has alarmingly raised the quantum of fine from Rs 500 to Rs 10,000.
Motorists who deliberately obstruct the free flow of traffic by parking their cards on a busy road or taking an erroneous U-turn which leads to jam, were earlier mandated to be fined with Rs 50. Under the amended MVA law, the fine has been raised to Rs 500.
Another instance is of the fine levied on using a vehicle in unsafe condition with defect. Earlier, a fine of Rs 250 was levied. The Centre-floated law has now revised to Rs 1,500 for first offence, and Rs 2,500 for second offence. The defects in a vehicle include non-functioning of turn indicators and the electronic horn.
The fine on "refusing to stop and submitting vehicle for weighing" has been increased by nearly 120%, from Rs 3,000 to Rs 40,000. The fine could be levied on heavy load truckers who are stopped to check whether they are ferrying goods beyond the permissible load limits.