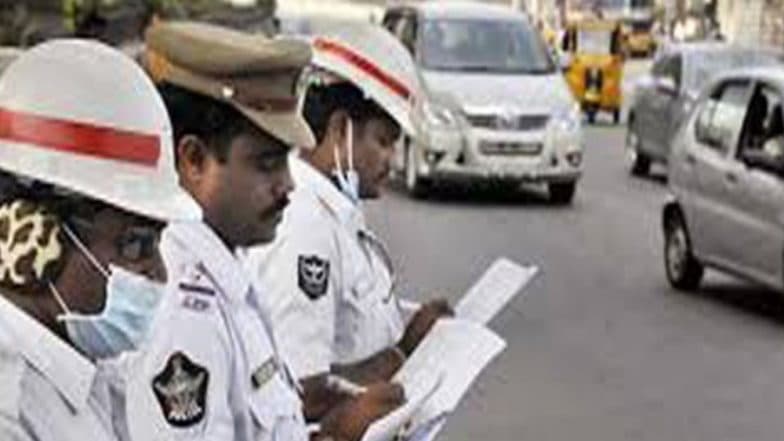 New Delhi, September 6: Days after the Motor Vehicle Amendment Act, 2019 was implemented, reports surfaced that riders will be fined for wearing slippers or sandals while riding bikes. However, there is no official confirmation about the new traffic "rule". The reports, which claimed that riders at fault will be fined Rs 1,000 if they are caught riding a bike wearing slipper. And for the second violation of the rule will land then in jail for minimum 15 days. New Motor Vehicle Act Comes Into Force From September 1: Here's List of Stringent Rules And Penalties For Violating Norms.
As per reports published in Navbharat times, in August, police had fined people for riding a bike wearing slippers. Reports quoting traffic officials said that this rule existed, but it was not implemented strictly. However, opposition slammed the Narendra Modi government over the rule. The Motor Vehicles (Amendment) Act, 2019, was implemented on September 1. The act was passed in Parliament's recently concluded monsoon session, after which President Ram Nath Kovind gave his assent to the bill. Video Shows 'VIP' Car Moving On Wrong Side While Mumbaikars Struggles on Flooded Roads, Twitterati Fume.
The government's move to increase penalties faced a lot of flak from the public. After the new act was implemented, several cases came to light in which people paid a hefty fine for violating traffic rules. In one such incident from Haryana's Gurugram, traffic police fined trolley driver Rs 59,000 for driving under the influence of alcohol and not carrying required documents. Gurugram Traffic Police Imposes Rs 59,000 Fine on Trolley Driver for Drunken Driving.
Similarly, three auto drivers were charged Rs 9,400, Rs 27,000 and Rs 37,000 as challan under various sections of newly implemented motor vehicle act. Meanwhile, Union Road Transport and Highways Minister Nitin Gadkari justified hefty fines for violating traffic rules under the Motor Vehicles (Amendment) Act, saying it will prevent people from breaking traffic laws