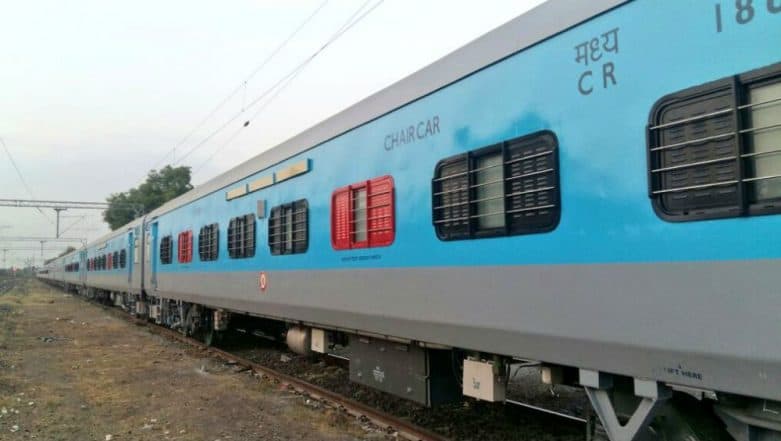 Mumbai, Sep 18: Months after the Tejas Express was left in a deplorable state, another similar incident has surfaced where the Mumbai-Nashik Panchavati Express was vandalised by unidentified miscreants. Reports inform that the incident comes just four months after the Panchavati Express was upgraded with Linke Hofmann Busch (LHB) coaches with better amenities. The vandalism of express trains, which are aimed to provide better amenities to passengers, proves that Indians really don't deserve good things!
The incident came into light after an inspection of the train was held recently. According to a report by DNA, it was found that all the tray tables were damaged, the armrests were dislodged, the curtains were all torn and windows were smashed. Also, taps, toughened glass of luggage racks, trash bins and mirrors were stolen by miscreants from the Panchavati Express. On the occasion of Gandhi Jayanti on October 2, the Manmad-Nashik-Mumbai Panchavati Express will be declared an 'Adarsh' train by Rail Parishad, a report by The Hindu said.
The report further informs that vandalism and theft incidents have been frequently reported which has cost the Central Railways and repair bill of nearly Rs 9 lakh. Apart from this loss, the Central Railway also bears the cost of painting the train and remove the paan stains among other signs of defacement.
Before embarking on its first journey from Mumbai to Goa in May, the Tejas Express was vandalised by unidentified men. Reports by ANI informed that the window glasses were found while the Railway Protection Force registered the case in the matter and started investigating the vandalism. The much talked about Tejas Express was flagged off by the then Union Railway Minister Suresh Prabhu and was supposed to ply between Mumbai and Goa.
After the vandalising incident, the Tejas Express had reached Mumbai CST in a very bad state with windows broken and things stolen. The LCD screens, that were one of the prime attractions of the train, were broken, the power switches were removed, wires were broke while headphones were stolen, leaving Indian Railways in a state of embarrassment.