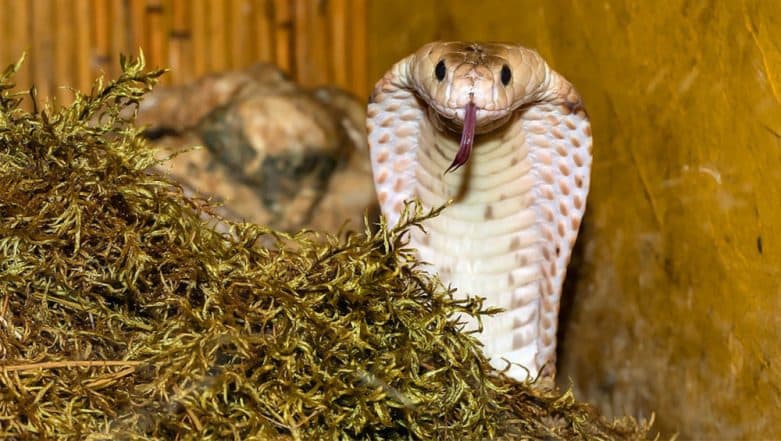 Mumbai, May 22: Coming across a snake unexpectedly can be surely scary and residents of a posh locality in Mumbai's Malabar Hill region are living in fear. A cobra snake in the area bit an elderly person in the parking lot of Godrej Baug. 72-year-old has now been admitted to a hospital and is in the ICU getting better. But the incident is giving sleepless nights to the residents here who don't want to have any similar encounters with the slithering reptiles again. Pet Dog Saves Owner From Cobra Bite But Dies of Snake Poison in Tamil Nadu.
As per reports in Mid Day, a senior citizen Kharsheed Mistry saw a cobra in their parking lot last week. He tried to grab the cobra with the help of some members of the colony, but the snake stung him on the hand. He did not think it was as big a deal but he was rushed to the hospital by another resident Tehmtan Dumasia. But the venom was spreading in his body. The registrar of Parsee General Hospital, Dr Ashish Khandelwal told the news report, "He was conscious and alert. He narrated the incident to me but within five minutes he threw up and collapsed. These are the typical symptoms of a snake bite. He brought to the hospital in time." He also faced some breathing issues, so he had to be kept on a ventilator. Selfie With Cobra Turns Fatal: Man Tries to Put Snake Around his Neck, Dies After Snake-bite in Andhra Pradesh, Watch Video.
Although Mr Mistry is now recovering, the incident is causing fear among the residents of the locality. People are not even taking out their parked vehicles. The fear of snakes and snakebites is already looming on the heads of the people. Some of them are now breeding mongoose and peacocks in the area, since it is surrounded by greenery. The snakes could be hiding in the residential properties to hide from the rising temperatures.