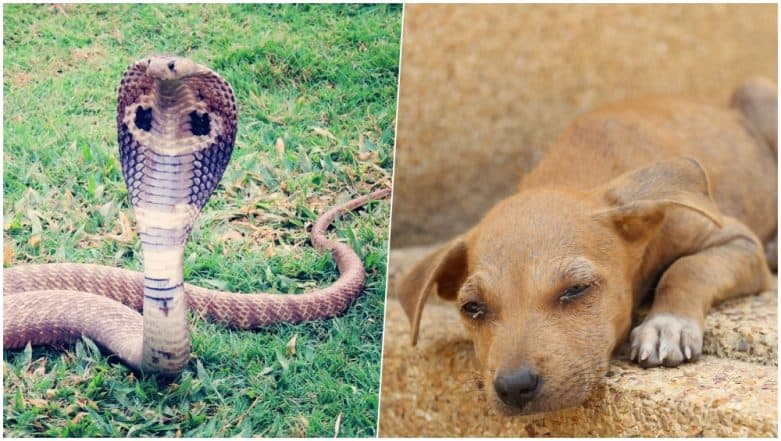 A dog is a man's best friend and the saying stands true once again in an incidence from Tamil Nadu, where a dog lost his life in order to save his owner from a snake bite. A farmer, 50-year-old Natarajan, in Thanjavur district of Tamil Nadu was saved from a cobra by his pet dog and unfortunately, the dog died because of the snake bite. The incident took place when the owner was out with his dog 'Puppy' on a morning walk in the agricultural fields. Pet Dog Saves Owner from Being Bit by a Rattlesnake; Photos of Hero Taking the Nasty Bite on Face Goes Viral.
The incident took place in Vengarayankudikadu near Kumbakonam in Thanjavur district. Natarajan had been taking care of his pet, Puppy for the last four years and the pet proved his loyalty too well. The pet was no less than being a part of their family and Puppy would follow Natarajan everywhere. In a report to the Times of India, Natarajan mentioned that he was walking along with Puppy in the fields when he noticed a 5-feet long cobra. He was scared at the sight but the dog kept barking at the slithering reptile that approached them. Heroic Pet Dog Saves His Owners From Two Tigers at Kanha Forest in Madhya Pradesh.
The snake attacked the farmer so the Puppy pounced on the snake. "I took a step back and the snake tried to attack me and Puppy pounced on it in order to protect me. Despite being bitten several times by the venomous snake, the pet dog managed to kill the reptile," said Natarajan. Meanwhile, he too got a log of wood to hit at the snake. But Puppy was bitten by the snake so Natarajan hurriedly caught it back. He carried the pet dog back to his house as quickly as he could and even called the veterinary doctor but the dog was already dead. On the way while he hugged Puppy close, he also told the Natarajan was mourning the loss of his beloved family member.