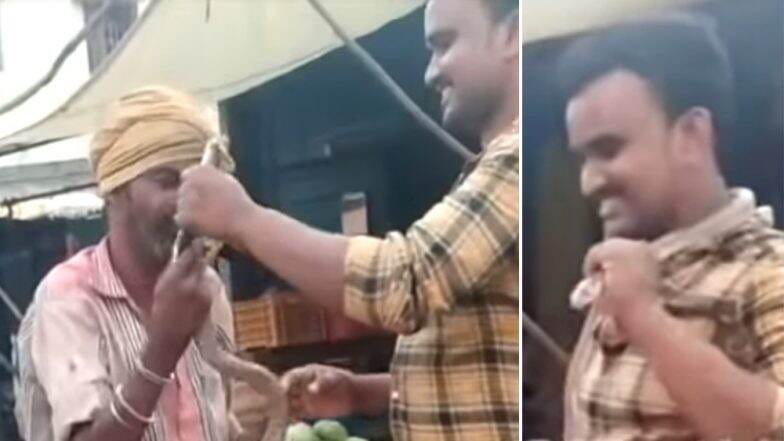 Andhra Pradesh, November 15: A 24-year old man lost his life when he tried to pull off a stunt with a cobra. Jagadish visited a snake charmer and tried to play with a cobra to get a selfie clicked with the poisonous snake. The man tried to put the cobra on his shoulder for a picture and even though it was held strongly around the neck, the snake did manage to bite his hand. The man was immediately taken to the hospital but due to the lack of anti-venom, he lost his life. The entire of the man's stunt was captured on camera. Shocking Pictures! Uttar Pradesh Man Bites Snake's Head And Chews it to Take Revenge.
The incident took place at Mangalampadu Street in a small town of the Nellore district. According to the locals, the snake charmer used to entertain such people and claim he has herbal medicines to cure snake bites. The video of the incident shows how the man was completely clueless about handling snakes. Can Cobra Venom Get You High? Two Rajasthan Men's Addiction to Poison Becomes Curious Subject for Research. 
Check Video of Cobra Biting a Man Who Tried to Click Selfies With Him
The man had no experience of dealing with snakes but is seen acting all confident trying to scare all other around who are watching his stunt. Jagadish then tried to put it around his neck and asked his friends to click a picture. The cobra then bit his hand and he collapsed. By the time he was brought to the hospital for a treatment, he was declared dead. Now a case has been registered against the snake charmer who is missing since the incident. He had removed the cobra's fangs and his venom, thus he used to let the public take and entertain it. But the cobra likely developed venom again and the person was unaware, resulting in his death.