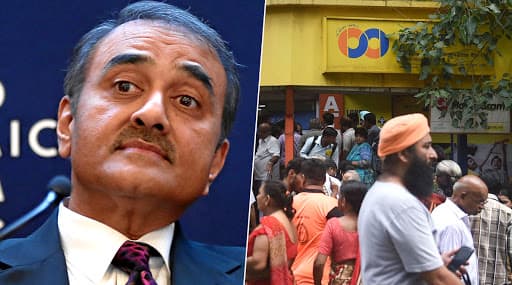 Mumbai, October 16: Two days after Reserve Bank of India raised the withdrawal limit for Rs 25,000 to Rs 40,000 for the depositors of the Punjab and Maharashtra Cooperative (PMC) Bank, reports are arriving that NCP leader and former Civil Aviation Minister Praful Patel allegedly used an aircraft -- owned by an associate firm of the Housing Development India Ltd (HDIL). The recent claim has been made by Enforcement Directorate, who stated that Patel used HDIL's Falcon 2000 VT HDL multiple times for personal use.
According to a report, published by the Indian Express, ED claims that passenger manifest states Patel travelled several times in the aircraft between 2010 and 2012. If records are to be believed, Patel was even accompanied by HDIL's arrested promoters, Rakesh Wadhawan and Sarang Wadhawan several times. However, Patel denied the allegations and said that he has financial dealings or transactions with HDIL, Wadhawans or PMC Bank." Praful Patel Summoned by ED over Alleged Land Deal with Dawood Ibrahim's Close Aide Iqbal Mirchi.
Digging deeper into the case, ED found out the Privilege Airways Private Limited -- which allegedly provide aircraft to former Union Minister -- borrowed approximately Rs 102 crore from PMC Bank. Sources claim that arrested Rakesh and Sarang Wadhawan are known to be close to the NCP leader. Both Wadhawans were arrested by the Economic Offences Wing (EOW) of Mumbai Police in connection with the Rs 4,355-crore fraud at PMC Bank. PMC Bank Crisis: RBI Raises Withdrawal Limit to Rs 40,000, Day After Nirmala Sitharaman Meets Shaktikanta Das.
Considering the history termination of HDIL's contract of slum redevelopment and rehabilitation project by Mumbai International Airport Pvt Ltd (MIAL) in 2013 due to regulatory delays, the financial troubles shot up for HDIL which had already invested Rs 4,000 crores in it. Following this, HDIL is currently facing bankruptcy proceedings at the National Company Law Tribunal under the Insolvency and Bankruptcy Code.