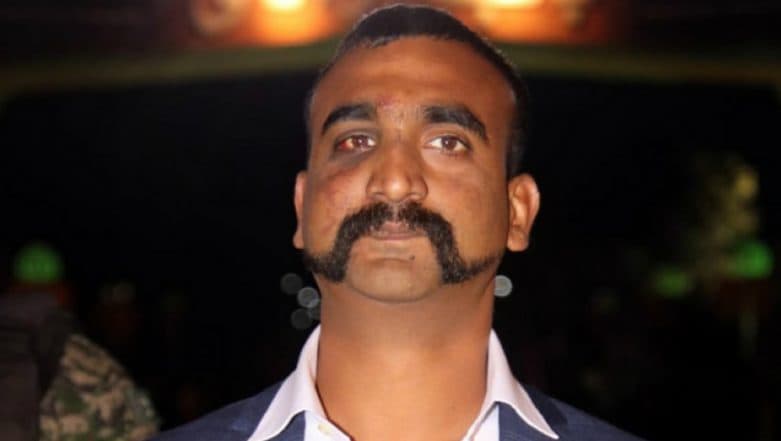 New Delhi, August 8: Wing Commander Abhinandan Varthaman, hero of the aerial dogfight with Pakistan on February 27, will be awarded with a top military honour, reports said on Thursday citing top officials in the government. The 35-year-old will be awarded with the Vir Chakra for gallantry, they said.
Along with Varthaman, five other pilots of the Indian Air Force (IAF) will be awarded Vayu Sena medals for gallantry. Their valour in treading into Pakistani airspace and successfully bombing Jaish-e-Mohammed terror base in Balakot has been recognised by the government and will be aptly rewarded, said the official privy to the development. IAF Mobile Game Teaser Shows Abhinandan Varthaman-Like Character, Game to be Out on July 31
Notably, the Balakot cross-border attack was carried out on February 26, days after a Jaish militant rammed into a Central Reserve Police Force (CRPF) convoy in Jammu & Kashmir's Pulwama, which led to the death of 44 jawans.
In the retaliatory raid in Balakot, scores of militants are believed to be killed. The casualty count, however, could not be attained.
A day later, on February 27, Pakistani warplanes violated the Indian airspace which prompted a reaction from the Indian side. Varthaman, who was commanding an MiG-21 Bison, succeeded in shooting down an F-16 aircraft being used by the Pakistani air force.
Subsequently, the IAF hero's MiG was also attacked which forced him to evict immediately. He landed on the Pakistani side of border and was apprehended by their forces.
As a "measure of peace", as Pakistan Prime Minister Imran Khan had then said, they decided to send Varthaman back to India within 60 hours of capturing him.