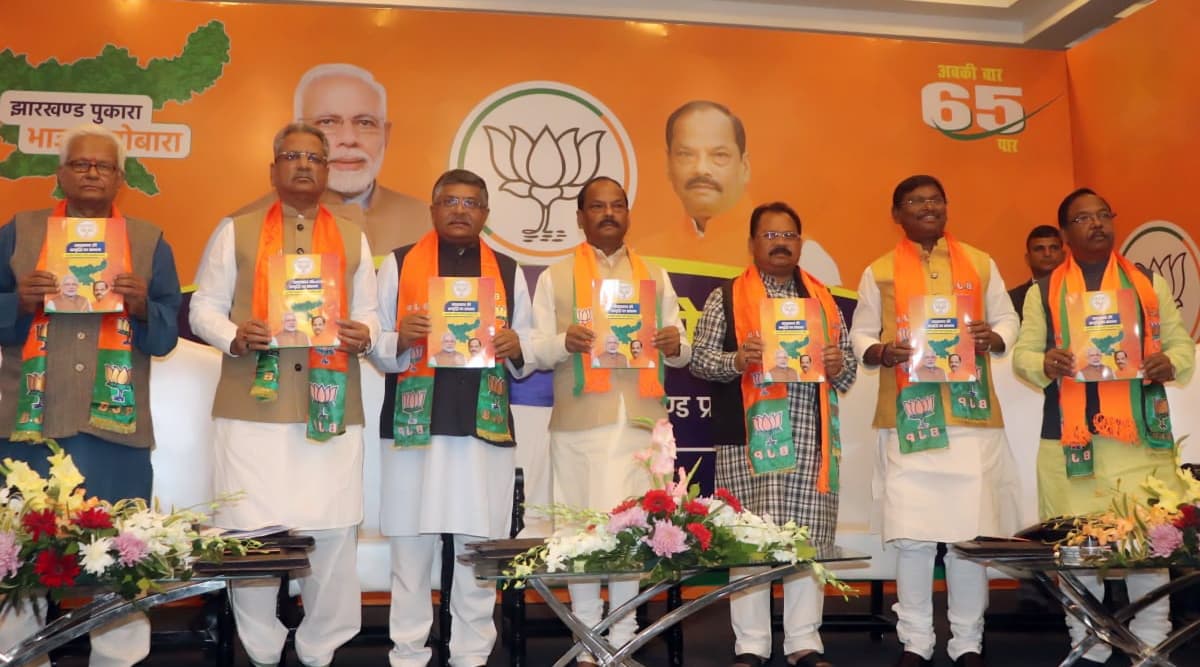 Ranchi, November 27: The Bharatiya Janata Party (BJP) on Wednesday released their poll manifesto for Jharkhand for the 2019 assembly elections in Jharkhand. Union minister and senior BJP leader Ravi Shankar Prasad on Wednesday released the party's manifesto for Jharkhand elections, promising job for at least one member of every below-poverty-line (BPL) family in the state, if re-elected to power. The saffron party also pledged to provide financial assistance to high school students hailing from backward and poor families. Jharkhand Assembly Elections 2019: Congress Releases Poll Manifesto, Promises to Turn Ranchi Into Smart City Among Other Promises.
Every student of Classes 9 and 10 will receive Rs 2,200 and that of Classes 11 and 12 Rs 7,500 as scholarships, Prasad said, releasing the manifesto here.
The party resolved to create job opportunities for local youth, if it forms government in the state again. Jharkhand Assembly Election 2019 Dates: Know Phase-Wise And Constituency-Wise Schedule For Vidhan Sabha Polls.
See the Pictures in the Tweet Below
झारखण्ड के प्रगति के लिए भाजपा दृढ़संकल्पित है। समृद्ध झारखण्ड का संकल्प लेते हुए आज संकल्प पत्र का विमोचन किया गया। #BJPJharkhandSankalpPatra pic.twitter.com/JAHiDXbt31

— BJP JHARKHAND (@BJP4Jharkhand) November 27, 2019
Following Are Other Highlights
"To provide a subsidized loan of up to Rs 5 lakh for OBC youth willing to do self-employment."
"Within 6 months of receiving the report, will work to provide reservation in services / jobs and educational institutions to backward classes within the scope of the constitution."
"To provide employment / self-employment to one person from every BPL family in the state."
"From KG to PG, free education to every girl child."
It assured a loan of up to Rs 5 lakh for tribal women running self-help groups. Jharkhand Assembly elections will be held in five phases between November 30 and December 20, and the counting of votes will take place on December 23. Presently, the BJP is in power in the state, which has a large tribal population. An alliance of opposition parties, mainly the Congress and the Jharkhand Mukti Morcha, is making a determined bid to oust the BJP government.