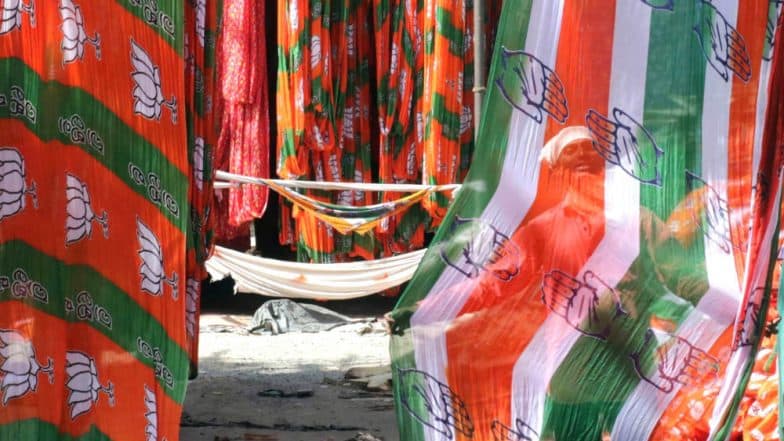 New Delhi, October 7: The Congress party has planned for a training session for its workers across the country. During the session, Congress workers will get lectures on "nationalism", an issue milked by the Bharatiya Janata Party (BJP) for electoral victories. Congress workers will also get training on "how to expose BJP's pseudo-nationalism". Besides, communication and election campaign are the other two topics to be discussed during the session. Priyanka Gandhi Hits Out at Yogi Adityanath Government After UP Police Stop Congress March in Support of Law Student Who Accused Chinmayanand of Rape.
According to a report, the training session would focus on issues such as nationalism, communication and campaign. Congress workers will be instructed to highlight Congress's "nationalist credentials" and its subsequent record as the ruling party. "How to conduct a poll campaign will be a key issue of training," a senior AICC office-bearer was quoted by Times of India as saying. Congress workers will also get classes on communication. Congress Has Turned Into Its Own Enemy; With Leadership Crisis, Infighting and No Media Presence, Is the Grand Old Party Digging Its Own Grave?.
The importance of connecting with voters on burning issues on a regular basis would be a key subject during the session. A training session was among the top agenda in the recent meeting of Congress Interim President Sonia Gandhi with state unit chiefs and legislature party leaders, besides AICC state in-charges. Congress is going through a tough time when its core ideology and icons have come under a cloud among voters.
The BJP is setting narratives and the Congress lacks a strategy to counter. Grassroot workers of the Congress are demoralised following party's back-to-back defeats in elections.