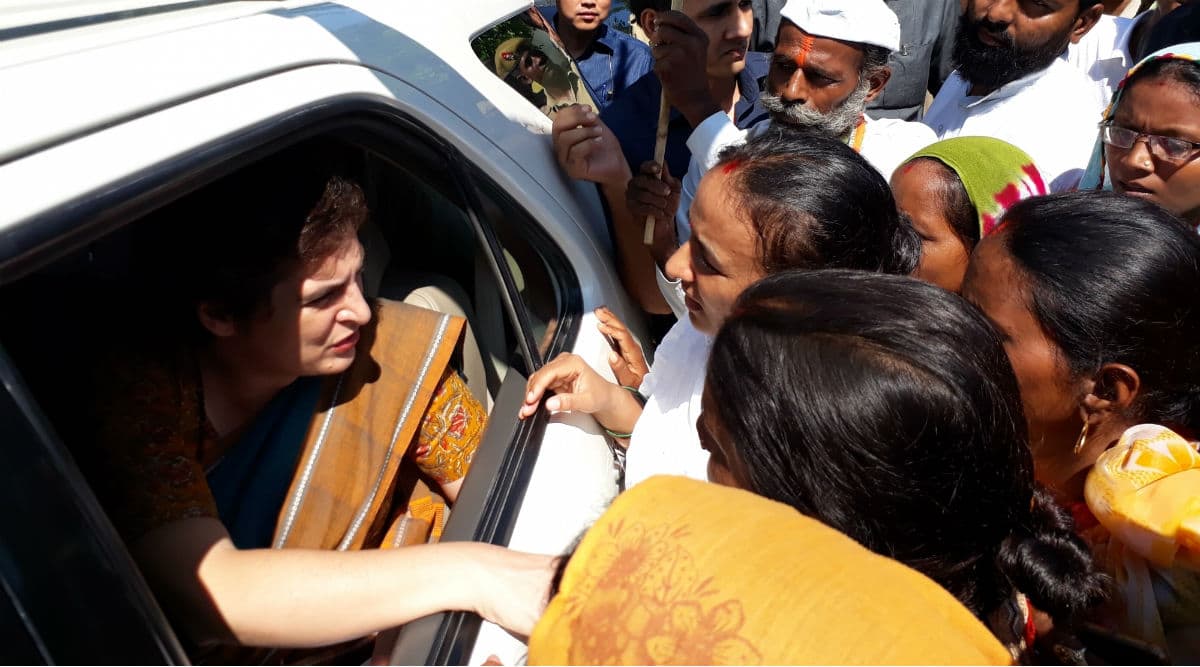 Lucknow, September 30: Congress General Secretary Priyanka Gandhi hit out at the Yogi Adityanath government after the Uttar Pradesh Police denied permission to the party for a march in support of the law student who had accused former Bharatiya Janata Party (BJP) Union Minister Chinmayanand of rape. In a tweet, Priyanka Gandhi said that the Uttar Pradesh government is shielding criminals and suppressing the voice of the victim. Other Congress leaders echoed Priyanka's sentiments. Priyanka Gandhi Attacks BJP Over Unnao and Shahjahanpur Rape Cases.
"The UP BJP government wants to suppress the voice seeking justice for Shahjahanpur's daughter. The padayatra is being stopped. Our activist leaders are being arrested. Why are they afraid?" Priyanka tweeted on Monday. Congress's leader reaction came after her colleague in Uttar Pradesh Jitin Prasad said that he had been detained and the state police didn't let party workers take out a march in support of the Shahjahanpur rape victim. Farmers' Agitation: Priyanka Gandhi Hits Out at BJP After Delhi Police Bars Protesters From Entering City.
Priyanka Gandhi's Tweet:
उप्र में अपराधियों को सरकार का सरंक्षण है कि वो बलात्कार से पीड़ित लड़की को डरा-धमका सकें।

लेकिन, उप्र भाजपा सरकार शाहजहांपुर की बेटी के लिए न्याय माँगने की आवाज को दबाना चाहती है। पदयात्रा रोकी जा रही है। हमारे कार्यकर्ताओं नेताओं को गिरफ़्तार किया जा रहा है। डर किस बात का है?

— Priyanka Gandhi Vadra (@priyankagandhi) September 30, 2019
"UP is no Kashmir yet today I am in preventive custody for simply wanting to highlight the plight of the Shahjahnpur rape victim. This BJP govt has no qualms in quashing an individual's fundamental rights!" Prasada said in a tweet. The Congress leader was seen questioning police over the denial of holding the march and asked whether or not holding a protest seeking justice for a person was wrong. He also shared a letter of the District Magistrate Shahjahanpur who denied permission for the march on account of festivals.
Jitin Prasada Confronting UP Police:
उतर प्रदेश सरकार का दमकारी रवाइए के कुछ दृष्य... मुझे अपने घर पर नज़रबन्द कर रक्खा है , घर के फाटक बंद कर दिए गए । क्या अन्याय के विरोध में आवाज़ उठाना अपराध है ? pic.twitter.com/b3p1VqqUdO

— Jitin Prasada (@JitinPrasada) September 30, 2019
"This is to inform you that currently festival season is going on and Navratri, Durga Puja and Dusshera functions are being held. The proposed route of the 'padayatra' passes through busy markets due to which it is not possible to give police protection. Also, the place cannot accommodate nearly 2,000 people during the public meeting," the letter said. Congress was to begin a 10-day Nyaya Yatra (march for justice) in Uttar Pradesh from Shahjahanpur today to target the Yogi Adityanath government over the issue of women's security in the backdrop of rape accusation against Chinmayanand.
The decision to launch the march from Shahjahanpur assumed significance as this is the place where Chinmayanand is facing the rape allegations levelled by a 23-year-old student. Priyanka, who is in-charge of Eastern Uttar Pradesh, was supposed to join the march. Priyanka has been voicing his support for the law student alleging that a rape case was not filed as the administration was "protecting" Chinmayanand.