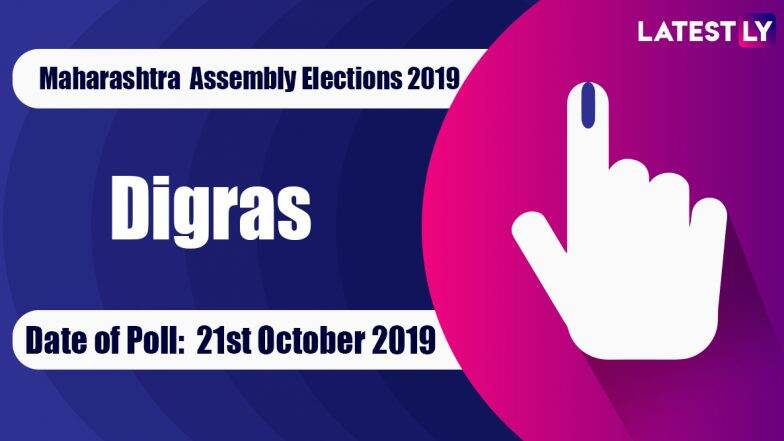 Mumbai, October 10: In Digras Vidhan Sabha seat of Maharashtra assembly, the electoral contest is between the Shiv Sena and the Nationalist Congress Party (NCP). The Shiv Sena reposed faith in its sitting MLA from Digras Rathod Sanjay Dulichand, whereas the NCP nominated Tarik Sahir Lokhandwala. For the October 21 Maharashtra assembly elections, the Shiv Sena has formed an alliance with the Bharatiya Janata Party (BJP), while the NCP has a tie-up with the Congress. Ralegaon Vidhan Sabha Constituency in Maharashtra: Sitting MLA, Candidates For Assembly Elections 2019, Results And Winners.
As per the seat-sharing deal, the Shiv Sena is contesting on 124 of 288 assembly seats in Maharashtra, while the BJP has 164 seats in its quota. The Congress and NCP have decided to contest 125 seats each. According to the schedule of Maharashtra polls announced by the Election Commission, voting will take place at as many as 90,403 polling stations on October 7. The Election Commission will announce results on October 24. The term of Maharashtra assembly ends on November 9. Aaditya Thackeray as Maharashtra CM? Shiv Sena's Dream is Still A Distant One as BJP Plays Big Brother in Alliance During Assembly Elections 2019.
In 2014 Maharashtra assembly elections, the BJP emerged as single largest party securing 122 seats. The Shiv Sena bagged 63 seats, whereas the Congress won 42. The NCP could win 41 seats. Bahujan Vikash Aghadi and the PWP won three seats each. Two AIMIM candidates were also elected. Bharipa Bahujan Mahasangh, Communist Party of India (Marxist), Maharashtra Navnirman Sena, Rashtriya Samaj Paksha and Samajwadi Party won one seat each. Seven Independents emerged victorious too.